Nathalie McGloin to present F1 trophy at British GP 2018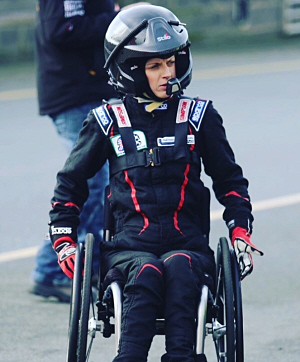 Demonstrating the governing body's commitment to disabled motorsport, MSA Chairman David Richards CBE has nominated Nathalie McGloin, the first female MSA Race Licence holder with a serious spinal cord injury, to present the third-place trophy at this weekend's Formula 1® Rolex British Grand Prix at Silverstone (8 July).

According to long-established protocol, the Chairman or President of the host National Sporting Authority (ASN) presents the trophy for the final podium place after each Grand Prix. After assuming the role in January 2018, this year's British Grand Prix was due to be Richards' first time performing this duty, however instead he has elected to invite McGloin to present the trophy. Nathalie is President of the FIA Disability and Accessibility Commission and a consultant to the MSA in respect of disability in motorsport.

In order to allow access to the podium Silverstone has installed a permanent lift, which will ensure all disabled competitors will be able to visit the Grand Prix podium in future, something that has not been possible until now.

Richards said: "We're committed to promoting the unique opportunity that motorsport presents for people of all backgrounds, whether male or female and able bodied or disabled, to compete together on a level playing field. On behalf of the MSA, I'm pleased to take this opportunity to demonstrate my personal commitment to inclusivity, and would like to thank both the FIA and Silverstone for their support in making this possible, not just in raising awareness of the accessibility of our sport but in providing a lasting legacy at the circuit."

McGloin said: "The MSA has supported me brilliantly in my new role as President of the FIA Disability and Accessibility Commission, and now for David to gift me this opportunity is humbling beyond words. For the Chairman of the British ASN to make this gesture reinforces the message, to a global audience, that this is a sport for all and in this respect the UK leads the way. The sense of pride I'm feeling is enormous, although I'm slightly worried about getting soaked in champagne!"

McGloin, aged 35 from Towcester, was involved in a road traffic accident aged 16 and has since been a wheelchair user. She first got on track in 2015 with Mission Motorsport, and now competes in the Porsche Club Championship. McGloin helps others with disabilities get behind the wheel through Spinal Track, a charity she runs with her partner, Andrew Bayliss. She is also an ambassador for Dare To Be Different.