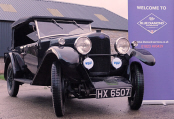 Latest up date from Gordon McAllan, who scribes the Scottish Riley Ethusiasts newsletter, with route plan after Paisley in the 1931 Riley WD Tourer, driven by John Lomas on the Monte Carlo Classique on 27th January.
Wednesday 27th January.
We set off from John O' Groats at 8.00am and drive south for 300 very hard miles to join entrants in the Rallye Historique at the formal Monte Ramp Start, in the lee of the
magnificent Abbey, in the centre of Paisley. Huge crowds turn out for this event each year and we are very pleased that Victor Riley himself, the living link with the Riley Motor Company of Coventry, will be there.
Please come and see us in Paisley, or give us a wave as we motor down the A9 at around 30 - 40mph average (time may confine us to the modern road, rather than the old - we are due to mount the Start Ramp in Paisley just after the Historique cars, at 18.00). From Paisley, we drive to Dumfries, aiming for a good night's sleep.
Thursday 28th January.
At 230 miles, this should be the "easy" day. We shall see! Off down the A6 and over the spine of northern England on the A66, with our destination Croft Racing Circuit, near Darlington, for a brisk lap. Then it's out to the seaside at Scarborough, to savour the twisting hill circuit of Oliver's Mount, before running south along the coast to the Hull ferry terminal. More excitement there:
John Lomax is determined to show what he and our Riley can do in the famous Monte Carlo Rally "Wiggle -Woggle"!
Friday 29th January.
Down the ferry ramp at Zeebrugge, heading for one of the other Monte Historique Starts at Reims, with time for a quick coffee with The Man from Wynn's (one of the BDRS sponsors) en route. It now gets serious, for we have to complete more than 400 miles to-day, if we are to make it to Monaco tomorrow. All being well, we'll be in Chalon-sur Saône for a few hours' rest.

Saturday 30th January.
Rubbing sleep from our eyes, we'll restart before dawn, for this last day of the Monte Carlo Rallye Classique will test us and our wee Riley even further. Initially, we follow the Rhône south, but soon swing due east into the mountains, for a taste of alpine conditions. Our destination, of course, is Monte Carlo, basking in the mild air of the Mediterranean, but we have to surmount the twists and gradients of the long haul to Sisteron, before easing the Riley (Good thing it has new brakes!) down the Route Napoleon and into the Principality itself, where our arrival will be celebrated in formal style.
A quick shower, then it's off to the official Dinner (Now you know why we had to be there on time!).
We hope that Scottish Riley Enthusiasts will be with us in spirit, if not in person, to will us on during this rigorous test of stamina for men and machine. We can assist you in your imagined company within the cockpit of the WD Tourer, however.
Using your Smart Phone, or PC, or Tablet, you can track us every mile of our way to Monte Carlo. The software with which we will transmit our progress is Locatoweb (no, you don't need to have the App to see where we are). Just log into
http://locatoweb.com/user/monte2016
This adventure is, for all of us involved, the motoring adventure of a lifetime. We'll carry the flag for Riley,for Blue Diamond Riley Services and for Scottish Riley Enthusiasts to a huge international audience.