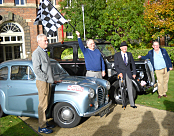 Richard LaMotte with A35 and Alan Brown owner of the London Taxi join Willy Cave and Jean-Marie Hermann.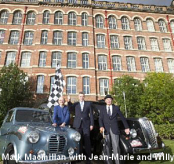 Renfrewshire councillor Mark Macmillan welcomes Willy and Jean-Marie to Paisley.

Monte Carlo Hisorique - Paisley Press Launch - 22 October

Report by Douglas Anderson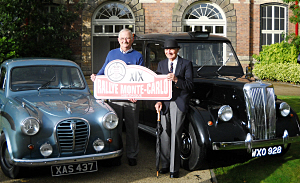 "Veteran navigator Willy Cave jetted into Glasgow to be present at the Press Launch for the 2016 Rallye Monte Carlo Historique. Willy was delighted to be reunited with a 1950's London taxi, brought along by its owner Alan Brown, similar to one in which he competed in the 1961 Monte Carlo Rallye with racing driver Tony Brookes and Peter Dimmock.

On 27 January 2016 another London taxi will once again set of for Monte Carlo, this time crewed by a Belgian team, led by Jean-Marie Hermann who came over from Belgium to be present at the press launch. He was delighted to meet the legendary Willy Cave and to look over Alan's taxi. Also on display was the immaculate and very nippy A35 owned by Richard and Fiona LaMotte who are taking part in the inaugural Rallye Monte Carlo Classique, starting from John O'Groats on the morning of 27 January 2016 and also driving all the way to Monte Carlo.

The Press Launch was graced with a sunny autumn day which showed off the cars to their best advantage. The posse of photographers, cameramen and journalists all jostled with each other to get the best angles and best quotes, but the pick of the day must be when Willy, resplendent in Bowler Hat, held up his umbrella and called out "Taxi to Monte Carlo!".


Updated 24 October 2015
Webmaster