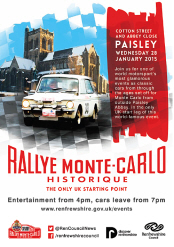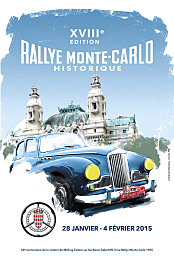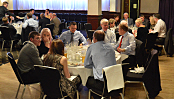 Top tables with Monte competitors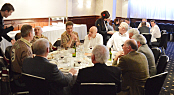 Enjoying the stories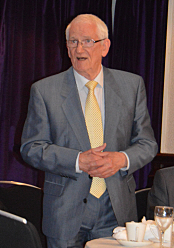 Johnstone tells us some tales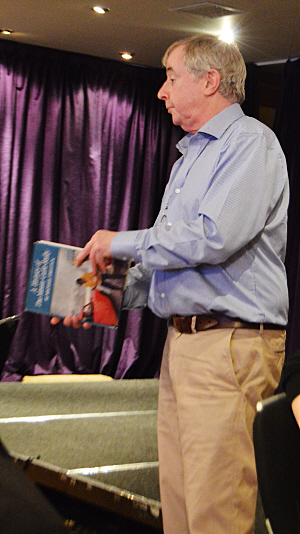 Tom Niven shows us the book of Monte stories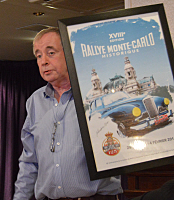 Tom spots another bidder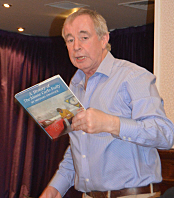 Bidding goes up again

Monte Pre Gala Dinner - 27 January

Story and Photos - Jim Paterson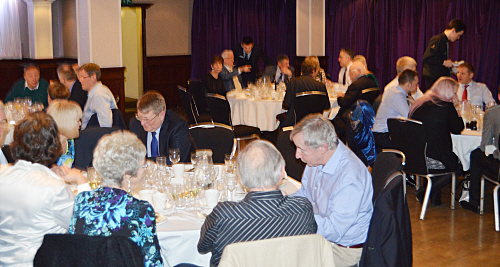 Dinner guests tuck in to their meal



This years pre-rallye Gala Dinner at the Glynhill Hotel attracted over 50 Monte and Heritage competitors, and enthusiasts. This year we went for 'smart casual' dress code rather than 'black tie' as in previous years. This made the event less formal and a more social event. After pre dinner drinks we sat down to a magnificent three course dinner with a choice of starters, mains and desserts, all of top quality. After coffee Brian Telfer, from the Paisley Monte organising team introduced the guest speaker Johnstone Syer.

I have heard Johnstone relate some of his rallying tales before, but he has such a repetoire of stories from many years of navigating for most of the top drivers in the seventies and eighties that it is most unlikely that he repeats himself, or tells the same story twice.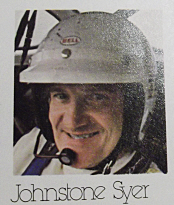 Johnstone started rallying, as most of us did, at club level, in 1956 on a Dunfermiline Car Club Sunday afternoon rally with his brother Bill in a Morris 1000. Well speed would not be a problem in that car, and a good way he found to learn his map reading and clue resolving skills. Johnstone's first 'big' event was with Bobby Crawford on the 1959 RAC rally when it started from Blackpool, headed north to Poolewe, back to Wales and after four days and three nights finished at the Crystal Palace in London.

Johnstone turned professional,joining Rover, and his first event was with Stirling car dealer Logan Morrison, a famous motorsport driver who won the Scottish Rally Drivers Championship in the 1960s. Sitting in an MGA 1500 soft top rattling through forest stages must have been scary.

Johnstone and Logan continued their relationship, joining the Acropolis Rally team in 1963, taking the then brand new P6 Rover 2000. However as it was not ready he eventually ended up in a Rover 3 litre saloon P5.

What everyone wanted to hear about was his antics on the early Paris Dakar Rallies, with Andrew Cowan, the London Sydney, and the London Mexico. His tales of navigating for the likes of Tony Pond, Roger Clark, and Brian Culcheth, whom he crewed with some 75 times brought many smiles and a few peels of laughter from the audience. A new one was his experience on the Kuala Lumpur to Bangkok rally.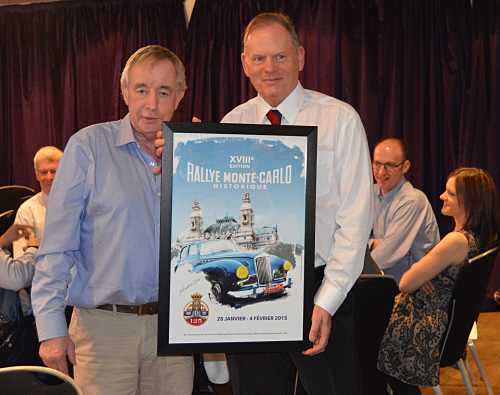 Tom Niven presents the official ACM poster to auction winner Gordon Glen



An auction after Johnstones talk saw club member Tom Niven take on his favourite job of auctioneer to encourage audience members to part with their cash. On auction was a framed poster of official ACM 18th Monte Carlo Historique. These are very rare, with each start organiser receiving only two or three to display. Tom who is an expert picture framer, created the framed poster that you see. Bidding quickly rose to over £200, and won by Gordon Glen, a great supporter on rallying, and veteran of many Monte events. Gordon, with son David will start the 2015 Monte in his Opel Kadett.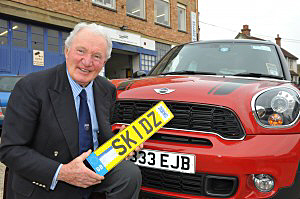 With an early book of Monte Carlo Carlo Rally stories also on auction, the total raised was around £250 for Paddy Hopkirk's SKIDZ charity.

SKIDZ uses motor vehicle studies to work with young 16-19 year olds, in danger of becoming NEET (Neither in Education, Employment or Training), with a range of special requirements with the objective of re-engaging them with mainstream education. You can read all about it at http://skidz.org.uk/


Updated 30 January 2015
Webmaster