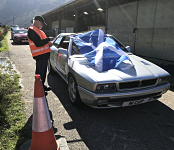 1997 Ghibli Cup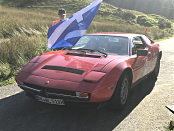 Belgian crew in their 1978 Merak SS set off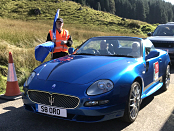 4200 V8 Spyder from 2003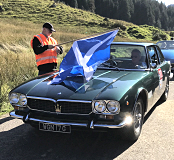 1969 Maserati Mexico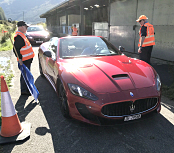 Maserati Spyder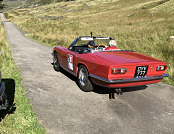 Foot down after start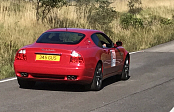 Another quick departure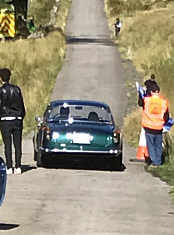 Waiting for all clear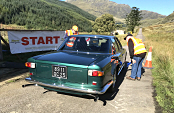 Ready to go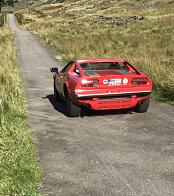 Ghibli Cup opens throttle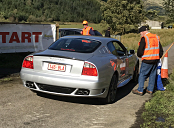 1995 GranSport ready to go

Maserati International Tour 2019 at the Rest and be Thankful
Story and photos Jim Paterson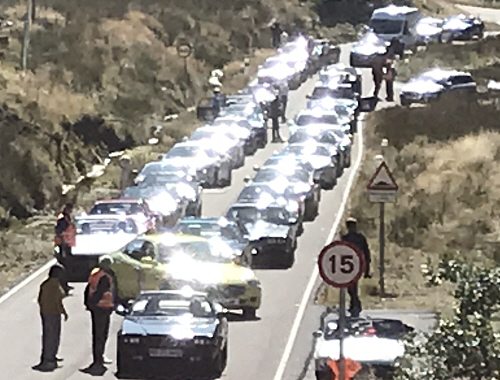 Stacking the Maserati's before heading for the start line



CCHMSC members turned out at the Rest and be Thankful hillclimb in Argyll to support members of the Maserati Club on their International Tour on Saturday 21 September.

Over 120 Maserati's from across the world, one crew from Australia, was a rare sight to see, especially under a clear blue sky bathed in bright sunshine.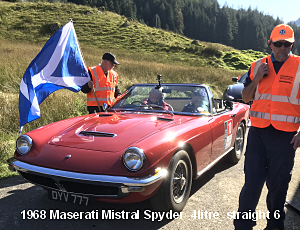 The Maserati International Tour visits a different country each year and 2019 was Scotland's turn. Using Gleneagles hotel for their base (taking it over completely I guess). the crews arrived on the Friday for a weekend driving the roads of Scotland.

Saturday morning first call after the drive from Gleneagles was the Rest and be Thankful. Our marshals were ready, kitted out, fed and watered, briefed, and in position with full radio contact. We had marshals to greet them on arrival, getting them off the A83 into the site, ensuring no queue on the main road, and warning them of the speed limit on the approach road. Marshals then guided them toward the start line, double stacking them while they waited their turn.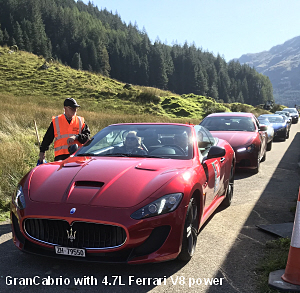 Many of the crews expressed their awe and WoW factor at the amazing scenery of Glen Croe, it's history and iconic status as a hillclimb, here in rural Scotland. Our marshals were able to tell them about the glory days back in the 50's ,60's, and 70's when this was an iconic hillclimb. They would see some of that historic action in a newsreel movie, presented care of your club, over dinner on the Saturday evening, no doubt recognising every twist, turn and hairpin that they experienced today. Absolute nostalgia for those crews who had been here before.

The cars, some dating back to 1958, were released and completed the route safely, before being organised at the top car park, where many parked up, grabbed a coffee and took in the view of their fellow entrants driving up the Glen.


Our final job was to marshal them off in the right direction on to the B828 toward 'Hells Glen', on their way to Inveraray Castle, for the obligatory group photoshoot.

After their Sunday drive, over their gala dinner, before heading home, they will saw a full screen slide show of their cars photographed on the 'Rest' in this iconic location by three excellent photographers, also members of our club. What an amazing record to take home as an experience of their drive, reliving and making new history in this unspoilt location, retaining all the features and vistas of 'glory' days past.

Without the help of our marshals, and that of the landowners, none of this would have been possible. The Club will always help other clubs, national and international to achieve their aspirations. From the response to this call for marshals that you also share this passion for our sport.




See the full slide show from photographers on the day, posted by Andy Thomlinson


Updated 7 October 2019
Webmaster