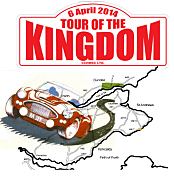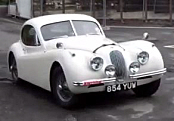 Hugh McKinnon in 1952 Jaguar XK120

TDave Heirs in 1971
Triumph Stag
Dave Ross in 2005
Toyota MR2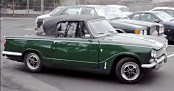 John Hutchinson in his 1969 Triumph Vitesse Mk2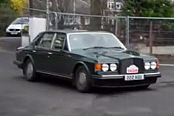 Margaret Betteley in 1988 Bentley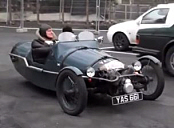 Tom Rae braves it in Pembleton Grasshopper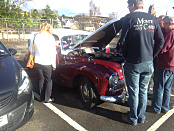 Campbell 1955 Sunbeam receiving a bit of TLC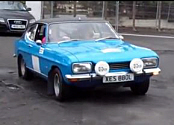 Raymond Rollo in 1972
Ford Capri 3000GT

Tour of the Kingdom - 6 April 2014
Report by Tom Niven. Photos - Tom Niven & Sandy Stevenson.

The weather was kind to us as some 36 cars assembled at Dobbies in Dunfermline for the start of the Tour of the Kingdom. It was an excellent turnout for the first event of the season over a new route.

There was an interesting collection of cars and it was good to see many familiar and some new faces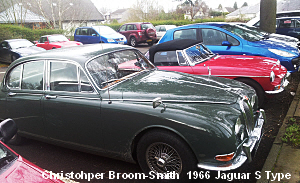 Signing on was hectic due mainly to the Clerk of the Course cutting his arrival fine – i.e. he was late but the first car was waved off on time. Jim Paterson had prepared an interesting and varied route before departing to Australia and everyone enjoyed travelling over some new roads. It was difficult to ascertain how many actually completed the whole route – there appeared to be much meeting of cars going in the opposite direction but this did not detract from the enjoyment.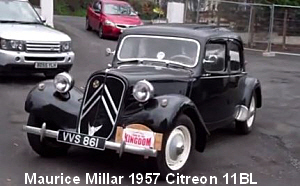 The route took in some of the historic parts of the Kingdom of Fife. Dunfermline was the ancient seat of the King's of Scotland, so a royal connection there. Another as we passed alongside Loch Leven and the island home to Lochleven Castle, where Mary Queen of Scots. was imprisoned in1567. The route headed deep into Fife and the East Neuk to Earlsferry named after the Earls of Fife who instituted a ferry for the use of pilgrims en route to the shrine of Saint Andrew. The ferry crossed the Firth of Forth to North Berwick, 7 miles away.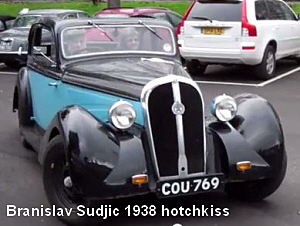 After passing through Pitenweem, Anstruther and Crail, each with a story told in the roadbook the crews reached St. Andrews, passing the Cathedral ruin. The university of St Andrews, is the third oldest university in the English-speaking world, the oldest in Scotland and one .of Britain's most prestigious. Can only go west now, as east is the North Sea!



Reaching Tayport near Dundee the route hugged the coast of the River Tay, heading toward Newburgh before reaching Perth, and the lovely village of Scone where the finish at the Wheel Inn (used on the 2013 International Autoecosse) hosted a jolly gathering with much swapping of yarns and plans for the coming season.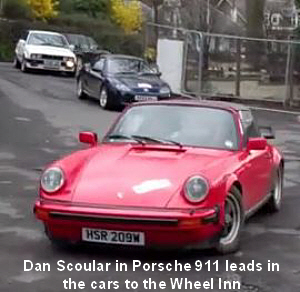 There were very few mechanical problems on the way. Hugh McKinnon had binding back brakes on his Jaguar XK120. Margaret and Donald Campbell had starting problems with the Sunbeam but after Ranald White came to their assistance with a huge booster starting pack they were on their way back up north escorted by David Spence and Roddie Main.They were last seen making steady progress at Daviot so we hope they are home by now!

Thanks to Dobbies, The Wheel Inn and to everyone who took part.







Fred Douglas
1976 Triumph 2500




Alex Ewart
2003 TVR Tuscan




Alex Sneddon
1998 Marcos Mantaray

See the video by Sandy Stevenson at the Wheel Inn HERE

Updated 30 April 2014
Webmaster