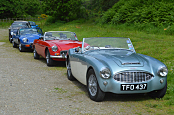 Lineup ready to start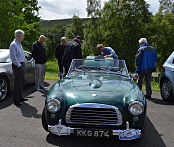 Gleaming Swallow Doretti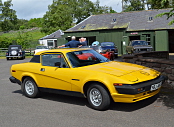 Outstanding TR7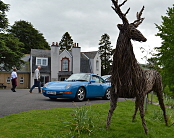 Stag (not the car!) welcomes us to the Retreat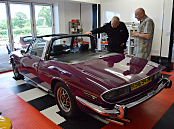 Ah - this must be the Stag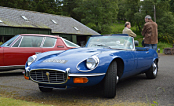 E Type sits with Jensen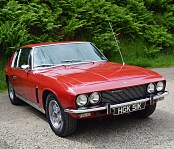 Here is the Jensen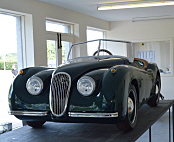 Pocket size XK120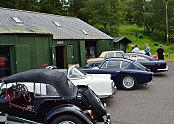 Parked up at the Retreat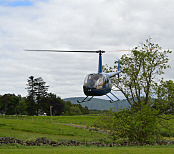 Instead of the Aston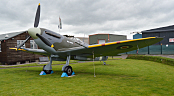 Red Lichtie at Montrose

June Jaunt - 15 June 2014

Report and photos Jim Paterson



What to do on a Scottish Sunday in the middle of summer? Contrary to those who think Scottish summers are constantly wet, our crews were welcomed by sunshine at the Clattering Bridge, near Fettercairn, start point for a welcome breakfast.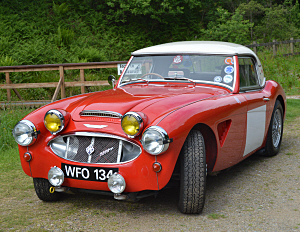 The Aberdeen group of CCHMSC members and enthusiasts regularly meet at weekends for a breakfast and chat, under the banner 'Aberdeen Racing'. This Sunday they decided to extend the idea to breakfast, morning coffee, lunch, afternoon tea, and high tea, and also invite other CCHMSC members to join them. David Ross who selected on the places to visit also chose a couple of 'classic' garages sporting a range of classics and other interesting motoring trivia. He also added a visit to see 'classic' flight in the shape of Spitfire and Meteor aircraft.

Most were local from around Angus and Aberdeenshire, but I made the trip up from just south of Edinburgh, where it was unfortunately showery. The good news was that north of Dundee the clouds parted and Mr Blue Sky went on the CD player.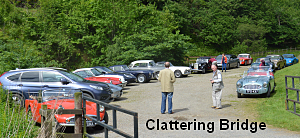 Clattering Bridge tea room did us well, with a selection of eggs, omelettes, bacon rolls etc topped off with copious amounts of tea and coffee got us fuelled up ready for our jaunt.

Heading back to Fettercairn we took the Edzell road but hung a right into Glen Esk. The road leads up to Loch Lee, at the end of the road, a favourite start for walkers into the hills. We returned to the Glenesk Retreat and Folk museum
www.gleneskretreat.co.uk for our morning coffee and a look at life in the glen before and during the early appearance of the motor car. It also gave time to socialise with some of the other 'explorers' in our group.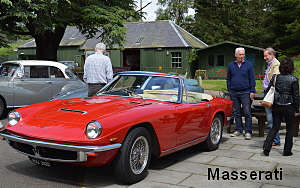 Refreshed we headed back to Edzell where a visit to Muirs Garage which specialises in Jaguar and Mercedes was welcomed. What caught my eye was the Pocket Classic Jaguar XK120, (www.pocketclassics.co.uk). Powered by a 110cc aircooled front mounted engine and rear wheel drive it can deliver a top speed of 45mph, which you would think was thrilling enough for a young driver in the making. However a little tweaking can deliver up to 85mph ! In a pedal car sized chassis, scary!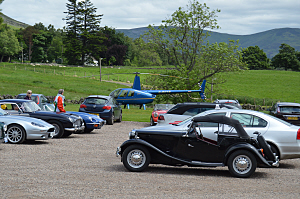 Time to cross country for the lunch spot in Glen Clova. Though once again a 'closed glen' it does have a loop road with the Glen Clova hotel at the top end, a popular place for Sunday lunches (www.clova.com). In a change from 'taking the Aston' for lunch, a couple brought their blue helicopter, just for a change! Certainly the centre of attention when it came time to take off for home.

Heading east our next stop for afternoon tea was Brechin and the Crosshill Garage, where classic and kit cars restoration and preparation are the order of the day. Once again a range of kids cars were available, though these were electric powered this time.



As the sun began to fall we headed for Montrose and the Air Station, Britains first operational military airfield setup by the Royal Flying corps in 1913. It felt like stepping back to 1940, with all sorts of aero memorabilia, including a Spitfire, named 'Red Lichtie' and a Meteor jet. www.rafmontrose.org.uk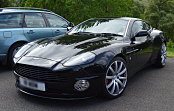 Cross country to Edzell and a club favourite destination at the Panmure Arms for high tea. A great 'jaunt' for a sunny afternoon allowing the soft top brigade to travel 'al fresco' all day.

Thanks to the Aberdeen group, and Dave Ross in particular for putting together an enjoyable trip round Angus and taking us to some unusual places.


Updated 25 June 2014
Webmaster