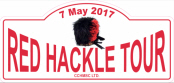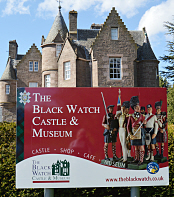 Balhousie Castle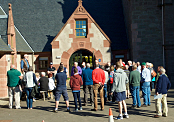 Ron Adam at Drivers Briefing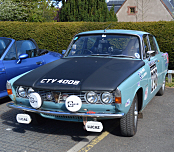 Monte winner - White P6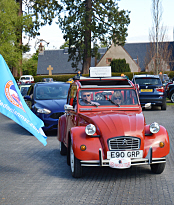 Massie burns rubber !!!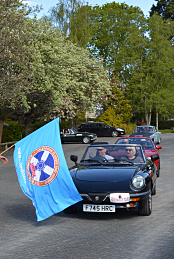 Bartniczek Spider takes off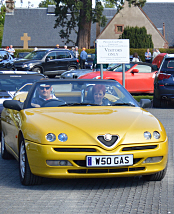 McGarrie/Anderson Spider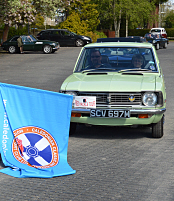 Cargill Toyota waits for flag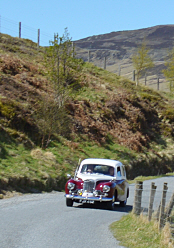 Campbell Sunbeam on route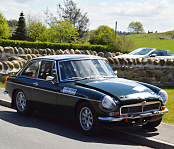 Dixon interesting parking at lunch stop.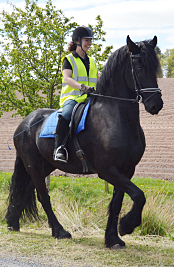 Horsing around on route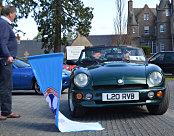 Lindley RV8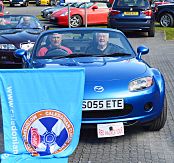 Raine/Wallace MX5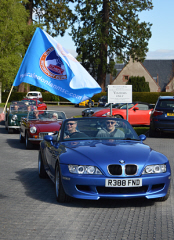 Andy & Neil Thomlison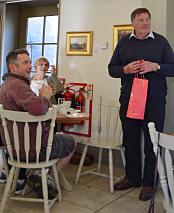 George Shand announces quiz prize


Red Hackle Tour - 7 May 2017

Report - Jim Paterson, Photos - Andy and Neil Thomlinson, Jim Paterson


Blue skies and sunshine welcomed the crews at Bahousie Castle in Perth for the start of the Red Hackle Tour. Balhousie Castle is home to the Black Watch museum and formed a stunning backdrop for our departure.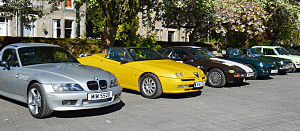 Following the obligatory signing on, bacon roll, tea and coffee, we were flagged on our way by organiser George Shand. not all our crews set off in what they hoped for. Simon Crowe brought his Porsche Cayman from North Wales with Darren McGuinness from Manchester reading th notes. At lest that was the plan, until it dropped a cylinder arriving in Glasgow! Not to be beaten a hire car, in the shape of a Ford Focus ST was hired, while the Porsche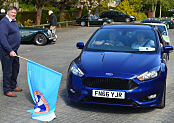 headed back to Wales on an AA recovery truck. Nico one, showing it takes more than a mechanical failure to stop a keen classic rally enthusiast. Lindsay Smith and Ann Johnston, in their mini pulled earlier in the run up to the start, as did Jock Millar and Linda Telford when Jock's familiar MG Midget ended up with no seats. Frank and Julie Irvine also had problems getting to the start as their TVR Chimera went into a sulk.

Duncan Massie and Jenny McKay burnt rubber, if that is not overdoing it, to lead the way in their '67 Citreon 2CV. All 600cc of it! Ian and Karen Lindley took off in their '93 MG RV8. Not many of these around so always good to see them in theirs. Father and son Colin and Ben Birtwistle in their first event set off in an '03 MGTF, with fellow MGF fans Tom and Marianne Dromgoole in their '01 well prepared example.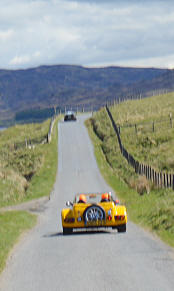 Graeme and Beth Cargill were back after the Argyll Tour in their '73 Toyota Corrola, with Bill and Val Pollock in the top down '55 Triumph TR2. I needed my sunglasses on as the chrome wire wheels were sparkling in the morning sunshine. Could this be claimed as a hazard to other road users?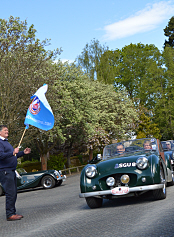 The crews from Inverness were headed up by Richard and Yvonne Bartniczek who brought their '92 Alfa Romeo Spider, followed by Roddie and Sylvia Main in the '95 Mercedes SL, and Dave and Maureen Spence in their new '02 BMW 325Ci Sport. Don and Mags Campbell completed the northern city crews in their '55 Sunbeam. All will join the trip to Europe on the Dolomiti Sfida in September, though the Campbells will swap their Sunbeam for a Ferrari 328. Could it be because we are driving through Italy, land of the cars birth?

Vaughn Taylor and Jim Campbell appeared in a well prepared Porsche 924, ideal for fast road rallies, while Andy Thomlinson swapped his Monte busting Volvo Amazon 'Anhangá' for his Z3M with son Neil at his side. both are up for sale on the website so check them out, both superb examples of the marque and prepared to perfection.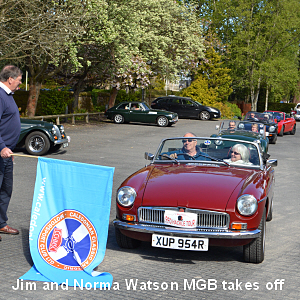 Hoping for an easier drive than on the Monte, Ranald White brought his well known '64 Rover P6 with Karsten Brown again in the left seat on the notes, hopefully a lot easier than the drive to Monte. Jim and Norma Watson brought us back to MG, with their '77 MGB.

You can't escape the Mazda MX5, and we had a couple, Bryan Raine and Duncan Wallace in an '05 example, and myself and Rona Paterson in my '10 example, which will also be heading for the Dolomites in September. John Stuart who recently returned from Spain, see his story 'Its' a Regularity Jim, but not as we know it!' arrived in his '05 Westfield with Richard Welsh feeling the wind around his ears in the left seat.

Much more civilised were Graham Cox in his '93 Morgan Plus 4 with Maurice Millar sharpening his navigational pencil. Ian and Grace Dixon joined at the last minute in the MGB recently returned from the Berwick Classic challenge. The final '00 BMW Z3 of the day was crewed by Patricia and David Robertson.

Heading over the River Tay we entered the Perthshire countryside heading toward Scone, ancient seat of Scots kings. To keep our crews on their toes an observation quiz was included as a bit of fun. It started in the opening few miles after leaving the city boundary, a flavour of what was to come. Continuing east we kept the Tay to our right to Pitroddie before turning north to Rait, climbing the Sidlaw Hills, and Coupar Angus. Again we headed east toward Glamis, on the north side of the Sidlaws, and the castle, home of the Earl and Countess of Strathmore and Kinghorne. Today we passed on the morning coffee to keep going toward the Grampians, turning west toward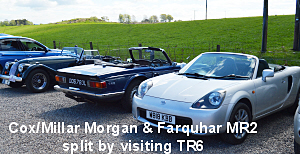 Murthly and our pre-arranged lunch stop at the Uisge Café and restaurant. The ongoing sunshine invited most to take a table outside to go 'alfresco' while chatting with fellow crews.

Time to follow the afternoon section which headed toward Kenmore at the head of Loch Tay, passing Abefeldy, birthplace of the Black Watch regiment. Taking the little used road over the Grampians to Amulree afforded some terrific views, particularly on a clear sunny day like this one. A few more observation clues were hidden away in this section and cars could be seen quickly reversing when they realised they had missed one! We passed Loch Freuchie which outflows into the river Braan which in turn feeds into the Tay at Dunkeld.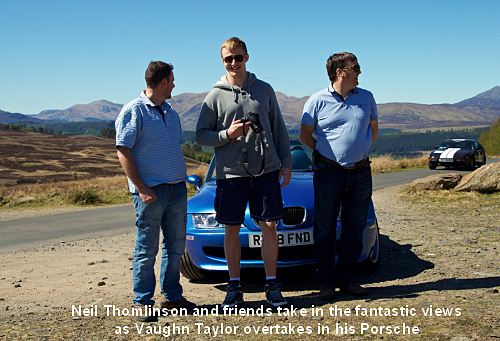 Turning south toward Glenalmond we had our final skirmish into the hills to visit Little Glenshee, before heading back south toward Perth. The sight of a farm shop selling ice-cream was too much for most crews who pulled in to enjoy a cone or slider at Stewart Tower Dairy at the village of Stanley. A relaxing final section returned us to Balhousie Castle for our meal and to see how many clues we had worked out. Four crews struck gold and Jim Campbell's name was drawn out the bag and together with Vaughn Taylor picked up the prize.

A great day out on roads across Perthshire and Angus, some we had never driven before, and well away from the usual Sunday motorcyclists probably due to their being often tight narrow and twisty. Lots more of these to explore so likely we will revisit this part of Scotland again in the future.



Birtwistle MGTF

Roberston Z3

Dromgoole MGF


Andy Thomlinson's selection of photos from the day.

Neil Thomlinson also took a few



Lots more events to follow. Check them out at the Events page


Updated 14 April 2017
Webmaster