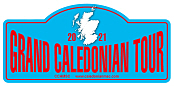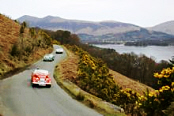 2021 would normally include the club's bi-annual continental tour, but with all that is going on in the world we are offering a grand tour right on our doorstep closer to home.

The Grand Caledonian Tour is a 15 day tour of Scotland visiting the all 4 points of the compass. Join or leave the tour at anytime, so ideal for those on a time constraint.

NO ENTRY FEE (small admin only to cover materials)

Highland, Lowland, mountains, glens, coasts and islands. Fabulous scenery, fantastic roads, reasonable daily mileages.

Ideal event for your classic.




Grand Caledonian Tour - 25 September to 9 October 2021
ENTRY LIST CLOSED

Entries NOW CLOSED for the forthcoming Grand Caledonian Tour starting at Dobbies Garden Centre, Edinburgh EH18 1AZ and finish at the Doubletree Hilton Hotel, North Queensferry, Fife KY11 1HP.
Updated 10 September
Entry No
Driver
Navigator
Car
Year
Tour
C1
Roddie Main
Sylvia Main
Mercedes SL320
1995
All
C2
Don Campbell
Mag Campbell
Bristol 412
1978
All
1
Andy Owler
Liz Owler
Alpine Renault, A110-1647
1971
All
2
Mike Helm
Gillian Helm
Triumph TR6
1972
All
3
Terry Clark
Liz Clark
Audi quattro 20v Turbo
1989
All
4
Tom Dromgoole
Marianne Dromgoole
MGF
2001
All
5
Ron Adam
Jan Adam
Porsche 911
1999
Days 1-4
6
Ranald Bruce
Louise Wall
BMW 635D Convertible
2009
Days
2-11
7
Alan Pettit
Julie Pettit
Volvo Amazon 122S
1968
Days 4-9
8
David Robertson
TBA
Chrysler Crossfire
2006
All
9
Duncan Massie
Jenny McKay
Jaguar XK
2007
Days 1-4
10
John Stuart
TBA
Alpine Renault A110
1975
All
11
Tom Rae
TBC
Lotus 7
1961
Days
1-4
12
Richard Bartniczek
Yvonne Bartniczek
Alfa Romeo Spider
1962
Days 1-8
14
Brian McGarrie
Shiela Anderson
Toyota MR2
2003
Day 15
15
Graeme Cargill
Beth Cargill
Suzuki Cappuccino
1992
Days 1-4
16
Joe Norman
Hazel Norman
Porsche 911
2006
Days
4-11
17
David Marshall
Marion Marshall
Peugeot 205 Rallye
1989
Day 1
Day 15
18
William Fleming
Ruairidh Fleming
MG Midget
1970
Day 1
19
Richard Spalding
Kate Spalding
Austin Healey 3000
1960
Days 1-4
20
Kevin Bax
Anne Bax
Jensen Healey
1972
Days
14-15
21
Margaret Betteley
Andrew Green
Jaguar
1998
Day 7
22
Bill Davies
TBC
Bond Bug
1970
Days
1-4

The Grand Caledonian Tour is a unique event to be run between 25th September and 9th October 2021. The tour is designed that entrants may choose to do the whole tour of 15 days or 1, 2, 3 or however many the crews wish to do.

The entire tour is 2015 miles long with 2 free days on Day 6 and Day 12. The route encompasses the whole periphery of the Scottish mainland with 2 diversions to islands of the Inner Hebrides.

The complete route visits the extreme points of the compass on the Scottish mainland, Mull of Galloway, Ardnamurchan Point, Dunnet Head and Buchan Ness

The event will start at Dobbies Garden Centre, Edinburgh EH18 1AZ and finish at the Doubletree Hilton Hotel, North Queensferry, Fife KY11 1HP. Entrants may join and leave the tour at any point in which case the exact start and finish points will be given in the Final Instructions.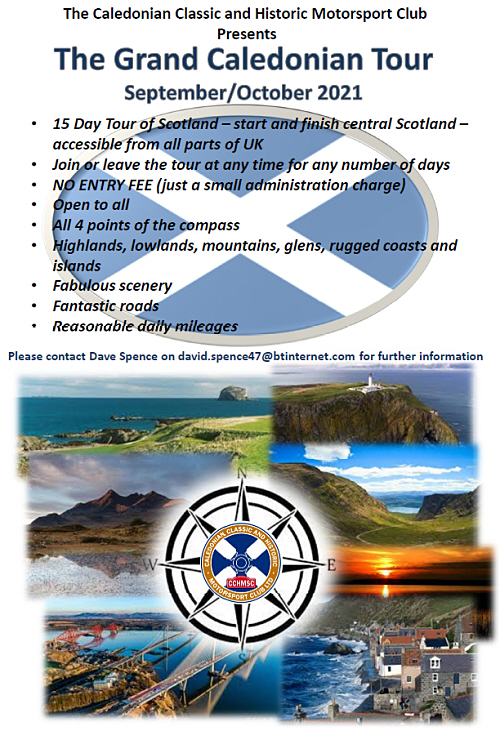 Updated 10 September 2021
Webmaster