Story and photos Jim Paterson. Additional photos David Alexander


Thirty one of the 34 entries started the Galloway Gallop on Sunday 3rd April. It was a eather dreicht (scots term for overcast and light rain) morning at the New Lanark Heritage Village, far removed from the sunshine when organiser Ralph Forbes and myself carried out the reccie, earlier in the March..

Lining up for the start at New Lanark

The after winter storage startup proved too much for some, forcing a quick change of car to drive the 170 mile route. Several crews arrived in their second or third choice, with Ian Lindley and Alan France in their 5th choice, a Landrover Defender. Scott Clements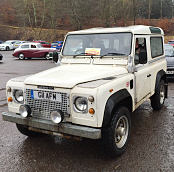 managed to fill his bright green Clan Crusader with diesel on the way to Lanark, forcing a quick drain, clean and refill. Sounded good when he arrived, and not too late either. Well done.
The Inverness crews in the shape of Donald and Margaret Campbell arrived in Mags newly upgraded 1955 Sunbeam Talbot 90, looking, sounding, and running well. Dave Spence brought his V8 Capri with Roddie Main navigating. This would be the cars first 2016 event. Craig McGibbon brought his Volvo Amazon, fresh from the Monte Historique to Monaco in February. Tom and Marianne Dromgoole set of in their MGTF with the top down, as always for this crew, rain, hail, or shine. David and Marion Marshall arrived in their Peugeot Rallye 1.3, seen several times on club tours. Brian and Moira Johnston brought their distictive Relian Scimitar. Not too many good ones still active on events.
Signing on in the Mill Cafe is a social affair to get the morning started, with a wide range of breakfast options and beverages as we dealt with the paperwork. The drivers briefing provided some late updates, like my mistaken mileage on one of the instructions (oops). The event introduced an observation exercise to keep the crew awake and a reminder that they were on the right route across many otherwise signpost free roads.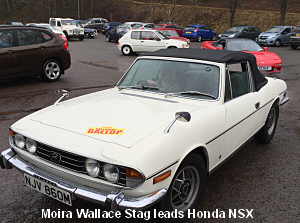 Fortunately the car park at the Heritage Village has been increased in size, meaning enough room for the starters and the normal visitor arrivals. By the time all the crews were flagged off, my timekeeper Linda and I felt a little damp.
Following on at the end of the pack we could see the grey leaden sky break further south, with sunshine, blue skies and white cloud making it a typical spring day. With daffodils at the roadside what more could you ask for!
Our route was a little tricky leaving Lanark, a jolt for those navigating on tulip diagrams for the first time. A couple of observation points helped their confidence. Picking a fast road section allowed catch up and a way to easily cross the M74 to reach the heartlands of Galloway. Not long before we were back on narrow twisting traffic free roads, a joy for classic owners, especially for the soft top brigade who could now drive carefree with their tops down.



Robb/Nimmo


Ford Victoria


Massie/McKay Triumph TR7



Robertson BMW Z3
Passing Sanquhar, with a welcome fuel station for those who forgot to fill before the start, we reached Drumlanrig Castle, heading for Penpont.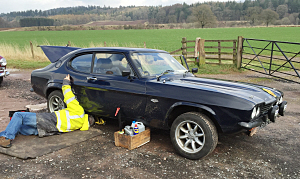 I met Dave Spence and Roddie Main under Dave's 5 litre Ford Capri Perana V8, with Don and Mags Campbell in their Sunbeam Talbot lending a hand. The rear silencer had come adrift, and the pair were refitting it back to the main system. The problem started back in Lanark taking a speed bump to quickly. I know the feeling, having pulled the Sprite pipe off many times over Himalayan style speed bumps and cross channel ferry ramps.
While Dave completed the repair I chatted to the others, taking in the warm sunshine, before pressing on into the south west and a lunch stop at Clatteringshaws Loch , where David and Matthew Alexander parked their MGB beside David and Janet Barritt TVR 3000M, and the 'Dolly' of George and Elizabeth Ferguson.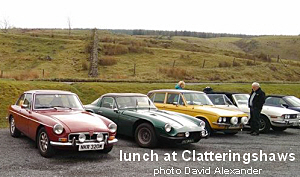 The after lunch stint took us across Raiders Road forest trail, linking Clatteringshaws Loch and Loch Ken. Opened only a week or so earlier the surface had been regraded and rollered, following logging work, which we checked a couple of days before the event. However, near the end of the 9 mile section the loggers had sneaked back in and left it a bit challenging for low slung cars.
We had however taken the opportunity to offer an alternative route to bypass the raiders trail which proved a 'crystal ball' solution for some crews.
Having all got to New Galloway it was east to Thornhill and Durisdeer, crossing the ford which thankfully was shallow, if fast flowing.
A fast stint to Crawford then Coulter led us to a cross country tight twisty section to Broughton, Dreva, then passing Stobo on the last leg to Blyth Bridge and the finish at Netherurd House.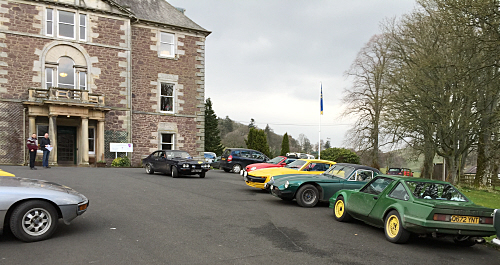 Arrivals reaching Netherurd House at Blyth Bridge

A warm welcome awaited us with a hot meal with plenty on offer after a fantastic drive across the Scottish Borders. See the full
Entry List
| | | |
| --- | --- | --- |
| Eccles/Paterson SLK | Hood Alfa Romeo | Young/Hawke MX5 |
Look out for our Tour of the Grampians on 15 May for mores exciting roads, this time across the mountains of Scotland. Starts and finishes at Pitlochry Festival Theatre.