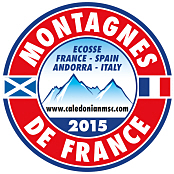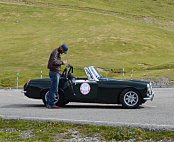 Packing for Berlin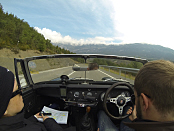 Sprite on way east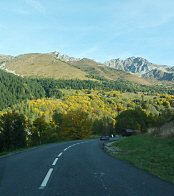 Autumn through Vosges mountains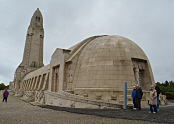 Verdun Memorial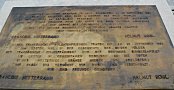 Verdun Memorial, opening plaque signed by Francois Mitterrand and Helmut Kohl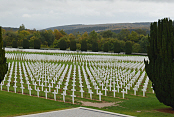 War Cemetry at Verdun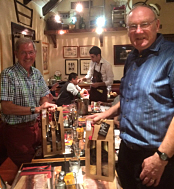 Jim and Dave receive their wine bottle pressies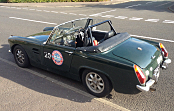 Sprite arrives home.
Tired but still going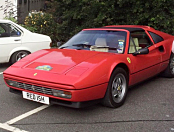 Ferrari home in Inverness with Don and Mags, after 4877 miles across Europe.

Montagnes de France - 24 September to 7 October 2015
Dernière Étape - Wissembourg to Reims

Story Jim Paterson.
Photos Jim Paterson, Mags Campbell, Dave Spence, Louise Wall


2500 miles through France, Spain, Andorra and Italy crossing countless 'cols' and driving great roads. This was Montagnes de France 2015.

Our stay in Wissembourg on Tuesday 6th was the last night we would all be together. Simon and Rachel would be heading east the next day taking the Sprite to Berlin for an extended tour. Our hosts at our hotel Moulin de la Walk, on the outskirts of the town, put on a great meal for our celebration together.

The morning of Wednesday 7th had us check over the cars, with the Sprite being topped up with oil and other fluids to see it over the next 1000 extra miles to Berlin and back to Amsterdam. Until I planned the Berlin route for Simon I didn't realise just how far it was away from us, near the eastern border with Poland.

Wissembourg to Reims

Our farewells complete the rest of us set off for Reims, with Maureen and Dave leading in the Rover 75. A slight error by navigator Dave on the satnav sent us all heading toward Germany, oops. Fine for Simon and Rachel, but wrong way for us!

At 225 miles today would be quite a long but fairly straight run west to Reims. We traveled through the Vosges du Nord, at the northern end of the Vosges mountains. Driving through the forest regions on the northern edge of the Vosges Parc Naturel we reached, Bitche, and true to its name was a bit of b""" to drive round. Much easier was the section to Sarreguemines on the German border. Many of the towns in this region were part of Germany, prior to the first World War, after which they transferred to France. Pressing on we bypassed Metz on our way to Verdun.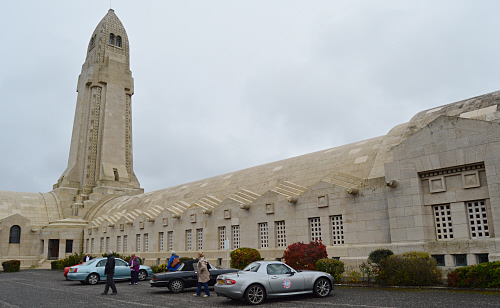 Our cars lineup at the Verdun Memorial


Most people have heard about Verdun from WW1 history. The Battle of Verdun between the French and the Germans was one of the longest and costliest battles in human history. Lasting 303 days from 21 February to 18 December 1918, some 70000 casualties a month with a total of 976,000 have been estimated. Verdun casualties from 1914 to 1918 are estimated at 1.25 million, such was the strategic importance of the area.

We took time out to visit the Verdun Memorial, a short detour from our route. Like our trip along the Western Front to the start of our tour in Reims, it was a sombre moment when confronted with these huge cemeteries and the carnage that took place in this area.

We were on the home stretch to Reims, being pursued by French trucks, one of which was keen to overtake Don and Mags in their Ferrari. He must have been in a hurry to get home as he also overtook me in the MX5. Thankfully he took a different turn further on leaving us to enjoy the last run into Reims.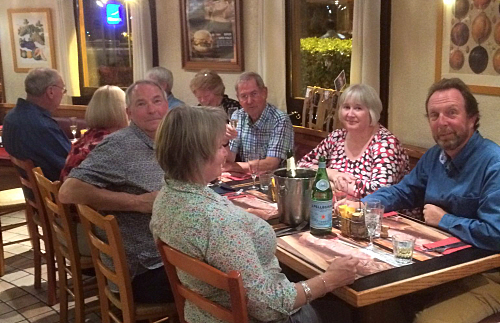 Our Gala dinner at the end of our tour in Reims.


At our final Gala dinner both Dave Spence and myself were presented with two bottles of wine, from the local area, as sourced by our now 'French residents' in the group, Ranald Bruce and Louise Wall. We enjoyed a champagne toast to the success of the event, and to the next one.

Everyone had enjoyed the tour, even though we were all exhausted. Tomorrow would start our separate route home to the UK, some heading to the Channel Tunnel, others to Amsterdam ferry to Newcastle, and the rest to Zebrugge to Hull. Ranald and Louise in the Fiat Barchetta were only a couple of hours from their home in France. We hope to see them again in 2017.

The question on everyone's lips was Continental Tour 2017, where will we go then? All will be revealed in due course. Much fettling will be required on some of the cars before then, after this marathon trip.


Updated 4 November 2015
Webmaster