Donation cheque handover - L to R Alexander Goodger, Jim Paterson

Your club CCHMSC presented a cheque for £1000 to the Dundee Museum of Transport on Thursday 27 May 2021. This donation will pay for the provision of brown tourist signs pointing to the museum from various places around Dundee city.
Organiser Ron Adam and club chairman Jim Paterson met with the team at the museum in Market Street for the presentation. A special cheque for the occasion was handed over to museum manager Alexander Goodger.
It is hoped that with more signage around the city that the museum will attract more visitors to visit the wide range of vehicles on display. Private and public vehicles, many with interesting provenance are available to see and get close to.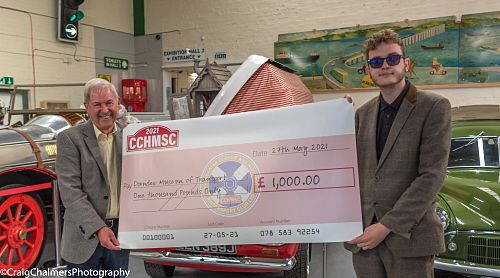 Jim Paterson presents cheque to museum manager Alexander Goodger

A small number of club members came along for the photo shoot, along with photographer from the Dundee Courier, whose story you can read at
The club had agreed to help the museum with tourist signage some time ago, but Covid got in the way. It is an ill wind as they say, but the original idea to provide one sign increased to five, when the city council found other venues had closed down in the intervening time. A call from Derek Simpson at the museum told us that the council had offered all these sites for the museum signs as well. This was an offer that just had to be accepted. Derek and Ron have worked on this project for some time.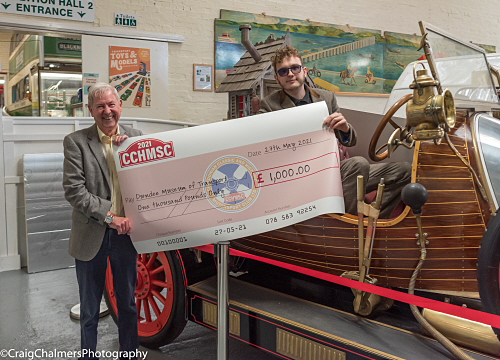 We will continue to follow the re-opening of the museum, complete with a new look logo design. Expansion plans are afoot to provide more facilities and events to entertain visitors of all ages. Worth a visit to Market Street next time you are in the area.
Photos on this page taken by Craig Chalmers Photography.
Craig is available to all motorsport clubs for events across Scotland.