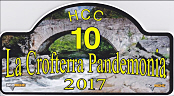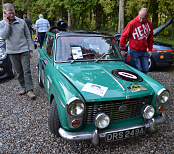 A40 crew final checks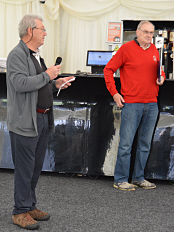 Roddie and Dave briefing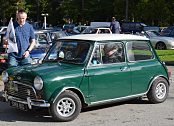 Preece/Finlayson Mini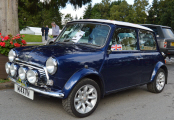 Page Mini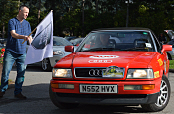 Alastair Shaw from Cornwall in Audi A4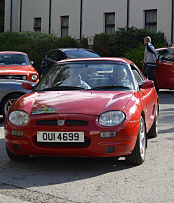 Shand crew in new MGF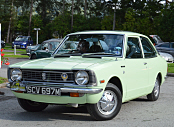 Graeme & Beth Cargill with Toyota Corolla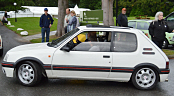 McCue 205 Gti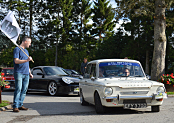 Gauld crew and Imp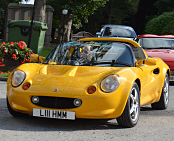 McGouran Lotus Elise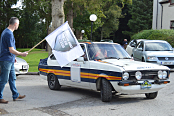 McQueen Escort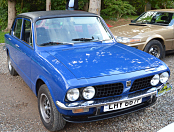 Jappy/McLeod
Dolomite Sprint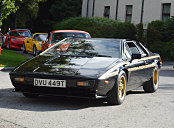 Oine/Sutcliffe Lotus Esprit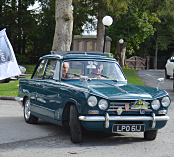 Smith Vitesse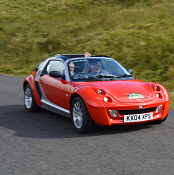 Stewart/Ross Smart Roadster
at Ben Lawers Dam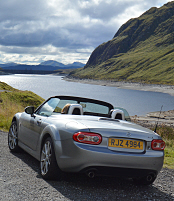 MX5 at Lochan Lairige
toward Ben Lawers Dam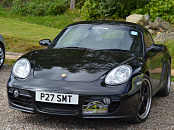 Smith/Houston
Porsche Cayman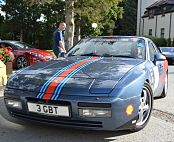 Cameron Porsche 944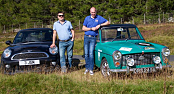 McGuinness/ Wilson take a break on route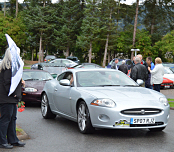 Harrington XK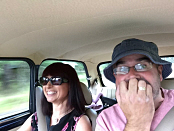 Nothing to be scared of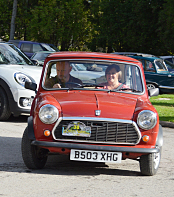 Anderson Mini City E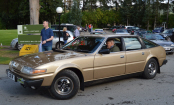 Davidson/Cox Rover.
(quick change from Alfa)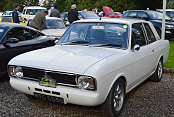 McCulloch / Skelly Cortina


La Crofterra Pandemonia - 9 & 10 September 2017

Story - Jim Paterson. Photos - Andy Thomlinson, Jim Paterson, and Facebook

Crews and cars gather at the Moness start


Fantastic weekend over many roads not driven on this event before. Almost 400 miles centred around the Moness Resort at Aberfeldy. A wide selection of classic and sporting cars, coupled with more than a few challenging events, made this another Crofterra to remember.


We headed south out of Moness, through Glen Cohill to Milton, then east along Strathbraan to reach the A9 at Dunkeld. I ignored golden rule number one, 'Do not follow the car in front!' I soon realised we were heading south instead of north on the A9. Quick U turn, waving frantically at the others to turn, and we were back on route. Crikey only 8.7 miles in and mistake already. This could be fun.

No more slip ups as we peeled off to Balnaguard. Great little road, but lookout for cyclists and cars coming at you! At Strathtay we headed for Weem, visited on this years CCHMSC Red Hackle tour. Routing to Appin of Dull, we were heading due west Fortingall and Bridge of Balgie, before south toward Killin, where many grabbed a spot of lunch.



Never Dull or Boring on the Crofterra
(Photo Hugh McGouran)



South through Glen Ogle through Lochearnhead and the Strathyre Forest toward Callander, cutting off to Brig O' Turk and Aberfoyle.Turn east again to Port of Menteith on our way to Doune, the castle being a big feature in Outlander. No timeshift to 1745 for us this time.

Dunblane was calling, though we passed on tea and cake at Andy Murray's hotel as we pressed on. Reaching Braco we drove alongside the River Knaik. up to Crieff, before looping round by Keillour and the Sma' Glen to Amulree. Last leg for today through Glen Quaich and over the top to Kenmore. Outstanding views from the top. A short run into Aberfeldy and refuel ready for tomorrow.

We all enjoyed the evening dinner in the marquee, which was followed by the regular crofter raffle. This time the event was raising funds for the Jim Clark Trust toward building the new Jim Clark museum at Duns. The raffle would run again on the Sunday evening and raise a total of £1500 for the project.

Sunday morning and most of us were ready for day 2, with a few taking time for a longer sleep. The weather had turned a bit and a damp restart greeted us as we said farewell to our hosts at Moness. Fewer soft tops down and even less as we headed east, with heavy rain showers greeting us five miles east of Aberfeldy.



Stewart MX5


Dave and Roddie spotted a tight little single track road that weaved its way up the west side of the River Tummel to Pitlochry.

If you took wrong slot in Pitlochry you would be heading south on the A9, so a keen eye needed to aim for Edradour Distillery, though a bit early for a refreshment stop!

Through Glen Brerachan to Kirkmichael and east to cross the River Isla at Kirkton of Glenisla,to Kirriemuir. We drove along the foot of the Grampians Edzell and Fettercairn, where we started the climb up to Cairn O' Mount. Shrouded in mist there was no view today. We did pull in at Clatterin Brig for lunch, and chat with fellow Crofter's taking a break as well.

Pressing on to Aboyne then Cockbridge for the run over the Lecht to Tomintoul. Not a flake of snow in sight, so no skiing today. Heading past a few distilleries in the Spey valley had mouths watering for a taster or two, but still a bit to go. Up to Forres, then west to Logie, and Cawdor Castle where the showers turned into a downpour, giving the Mini Moke crew a wakeup call as they dived for Sou' Westers !!

From there it was a home run to Fairways to dry off and enjoy some amber nectar, be it lager, beer or whisky, the choice was yours.

I made up for my not listening to Roddie and Dave at the briefing, by picking a winning ticket for the raffle. Happy Days are here again!



See you all again next year.

The 60 crews gathered from across the country, as far away as Cornwall, at Moness Resort at Aberfeldy. Many arrived on the Friday evening to enjoy all the facilities, spa and bar, so you could have a splash on the outside and inside. Good start to the weekend.

Saturday morning we gathered in the marquee for breakfast and signing on, followed by Dave Spence and Roddie Main providing the drivers briefing, detailing all the hot spots and other challenges we would meet on our tour. Personally I should have paid more attention, as I would pay later for this oversight!

The car park was full of classic and sporting cars of all shapes, sizes and colours. A couple of surprises welcomed me as Don and Mags Campbell changed for their Sunbeam to the Ferrari, which we will see on the CCHMSC Dolomiti Sfida tour later this month. 'A shakedown for the tour' reported the crew, so hope it passed muster.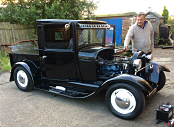 Gerry Robb and Lee Nimmo normally seen in the Ford Vic hotrod arrived in a just completed Ford Model A in pickup style. Still looked and sounded meaty. Andy Thomlinson and Jim Wilson changed wheels from Andy's Amazon, now sold, to Jim's Austin A40. With a bit of tweaking that only Jim knows what, makes this a pretty quick machine, as you can see on Andy's flickr page. Graeme and Beth arrived in their immaculate 1973 Toyota Corolla, seen on many events this is a very well presented example of the marque.

Darren McGuiness from Lancashire is a keen Crofter, but his navigator Simon Crow dropped out and the Z3M became a sporting Mini Cooper S, no slouch there then!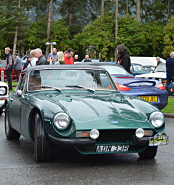 Lancashire was well represented with David and Janet Barritt at the wheel of their '77 TVR3000M, together with
Michael and Christine Anderson in their '85 Mini City E joining the starters. Everything went swimmingly until a spot of off roading took out the sump on an unwelcome rock on the Sunday. They will be back though. Claire and Martin Page drove the '99 Mini with Union Jack roof, and door mirrors. We would see them on Sunday at the roadside with a siezed distributor. Unfortunately no one had a spare in their pocket.

Locals Jim McCue and Julie Board from Dornoch set off in a quick '89 Peugeot 205Gti.
.
From the other side of the Pennines we saw the yellow Lotus Elise of Hugh McGouran. Gets tougher every year to get in and out of. He tells me he is practicing 'rolling out' so he can keep returning to Crofterra. 'Rock and Roll' Hugh.

Tony and Morag Yule also changed steed, from a Lotus Elise 250 Cup to a new Mini. Crofters are persistent no matter what looms up in front of them! Lotus Esprit are getting rare so it was good to seeKristoffer Oines and Vince Sutcliffe in the '79 model.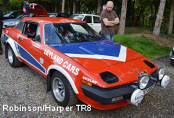 With the sun appearing and a good day forecast it was time for Brian Johnstone and Jim Brown to lead off the starters in their '72 MGB. The very tidy '77 Triumph 'Dolly' Sprint of Hughie Urquhart and Kirsty Greive, followed by Stephen Jappy and Brian MacLeod in a '76 example. The Vitesse of Ormond and Ranald Smith joined the Triumph marque entries.

Karl Robinson and David Harper drove a '76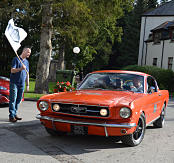 Triumph TR8 in full Leyland Cars livery. Craig and Rod Ritchie 2000 Porsche Boxster joined Adrian and Sam Harper in their '65 Ford Mustang fastback, well known for yumps in the Steve McQueen car chase in the movie Bullitt. You can see a few on Adrian's video on the event :-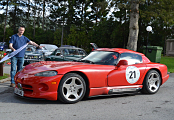 Viper crewed by Kevin McKenzie and Johnnie Andringa looked straight out of that other movie 'Cars'. Fabulous looks and sound.

Ian and Hilary Smith took off in the well known '65 Hillman Imp. Would they manage the tour without mishap? Nearly would be the answer. Ian's 'good samaritan role presented one or two plan changes, but he is well used to handling those, aren't you Ian?

I met Ian at the Bridge of Lochay Hotel just before Killin for a refreshment stop. I was surprised I had not seen the Imp on route, which was really a bit hurtful thing to say. However Ian had exercised his 'good samaritan' role gifting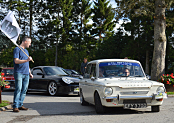 his spare wheel to fellow Imp driver Calum and Dillon Gauld in their white '66 model which had clipped a rock and punctured a rear. With no spare Ian gifted them his. Now they were both on borrowed time. Two Imps and no spare between them! Would this come back to bite them? Of course it would. Its not Crofterra without some drama.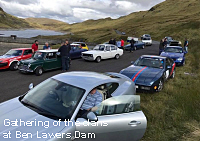 A great 2008 Porsche Cayman a real gentlemans luxury sporting carriage was piloted by Mike Smith and Leigh Houston,
with Alan and Craig Cameron sported a Porsche 944 with go fater stripes.Ricky Finlayson and Samantha MacNeil were true to classic form in their '78 Ford Escort. Ricky is all set for a 10k sponsored run in aid of the Brain Tumour Charity after this event, and raised £400 of sponsorship after the prizegiving on the Sunday.

Escorts were out in force with Roy McQueen and Ritchie Falconer, joining Alex Davie and David Irvine in their '75 model.

Stuart and Graeme Sheridan drove a well prepared '69 MGB/GT, which I saw at the end in the Premier Inn car park waiting for a 'lift home' following a clutch failure. TLC and they will be back. Tom and Marianne Dromgoole turned out in a well presented 2001 MGF, with Crofterra newcomers George and Jean Shand arriving in their newly aquired MGF. Tom Niven and Karen Wilson swapped to an MG estate after their MGF failed final tests.

Porsche Boxsters were popular with Campbell and Ian Jamieson bringing their 2001 example.

Willie Preece and Graeme 'Hawkeye' Finlayson sported a Mini Cooper S, with another regular, Norman MacFarlane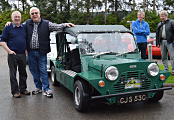 teaming up with Nigel Webster in a Mini Moke. I believe Nigel had only recently finished welding this now quite rare machine. With no side screens and forecast wet for Sunday, I wondered how the pair would survive. Thick waterproof anoracks semeed to be order of the day. They make them tough in the north of course.

Another regular crew Gary and Linda Bates enjoyed their Mazda MX5, which Gary reported never missed a beat, 415 miles ( an extra 30 odd for a few wrong slots) plus 135 to get to the start line on Friday night, all on two tanks of fuel. Gary also put up the loan of the car as a raffle prize, for use in next years Crofterra. MX5's were popular with Denise and William Stewart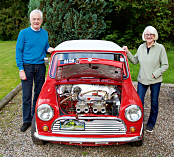 Mini's are always a favourite. Chris and Mary Paton brought their very quick 1960 Mini, sporting twin Webers. The car is seen often out and about, including several Crofterra's. George MacFarlane and Louise Jamieson brought a 1980 Mini, with Clare and Matrin Page in a '99 Mini Cooper Sport, Stephen Wright and Heather McCue in a '72 example. Tony and Shona Leese also turned out in the ever popular '61 Mini.

Mercedes are never far away and Crofterra had Deidre and John MacKintosh in a '99 SLK230, followed by Kenny Clunas and David MacRae in a '97 vesion.

Touring in style were Len and Andrew Morrison in a Aston Martin V8 Vantage, with John Harrington and James Cameron in a rakish 2007 Jaguar XK. At the other end of the scale, but still a lot of fun, the 2004 Smart Roadster Coupé of Ian Stewart an John Ross, which I met at Ben Lawers Dam..

Alastair Shaw must be farthest travelled, bringing his '95 Audi A4 Cabriolet all the way from Cornwall. Hope he enjoyed the change of scenery. Same for the crew from Kent, Sam Down and Mark Fisher in a 2005 Mazda RX8.





Time for swapping of tall tales



If I've missed you out of the story, please accept my apologies. This event is so popular it is difficult to cover every single car and crew. But you could tell from the smiles on faces at the end that we all enjoyed the weekend. You can also pick up more stories from the Crofterra Facebook, where I admit some of these snippets come from.

The carvery meal at the end in Fairways was a real winner too. Well done to all the organisers for yet again pulling a great event together. Just makes it harder to top this one for next year.

We can't wait. The dates for your diary are 1 & 2 September 2018 if you missed the announcement



Now have a peek at Andy Thomlinson's photos of a few of the the cars, and a video clip of the types of road we covered.

https://www.flickr.com



Published 16 September 2017
Webmaster