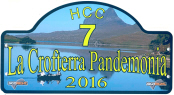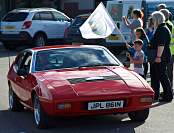 John & Mark Hornby depart in gleaming 1974 Lotus Elite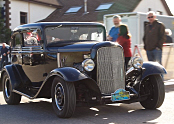 Gerry Robb winds up his
1932 Ford Victoria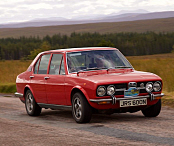 Ian Davidson & Patrick Cox in 1975 Alfetta making tracks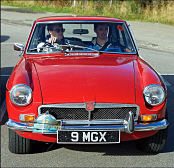 Great Reg No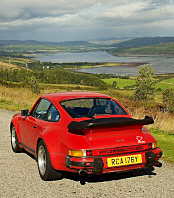 Porsche crew Joe Norman and Terry Clark stop to take in the view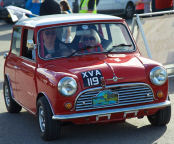 Chris Paton Cooper S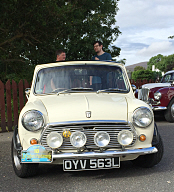 Preparing Mini No 18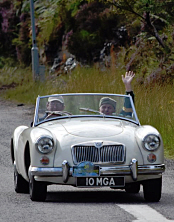 Bruce & Hilary Paterson in their very quick 1960 MGA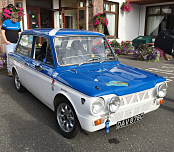 Ian Smith Imp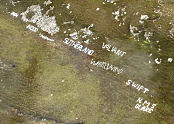 Loch Eriboll stones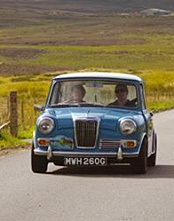 Tracey Smith/Emma Richards
Riley Elf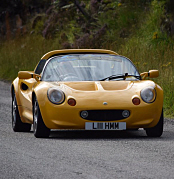 Hugh McGouran top down
in Lotus Elise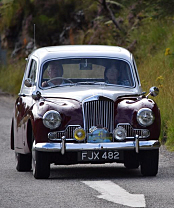 Don & Mags Campbell
1955 Sunbeam Talbot 90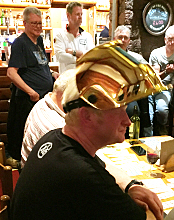 Gary Bates as Star Wars stormtrooper?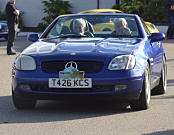 Deidre and John Mackintosh 1999 Mercedes SLK 230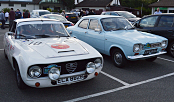 Jimmy 'Alfa' MacDonald
Alfa 2600 Sprint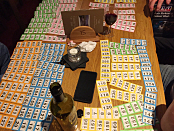 Is there a winner in here?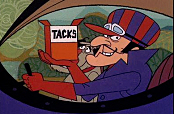 Graeme Finlayson
and
William Preece
overheard discussing their tactics.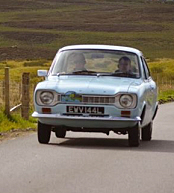 Tidy Mk1 keeps rolling along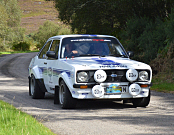 Davie Escort back on song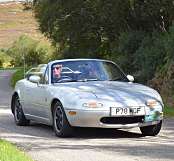 More MX5's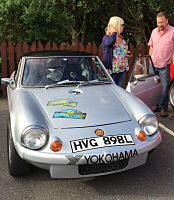 George and Veronica Dun Ginetta G15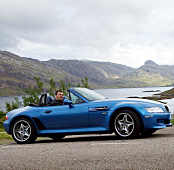 Darren MGuiness smiles in BMW Z3M, as crew member Andy Thomlinson takes the shot.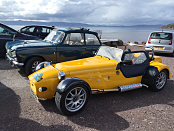 John Stuart Westfield sits beside Ormond Smith Vitesse in sun at Applecross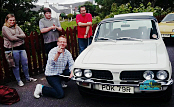 '77 Triumph Dolomite of Hugh Urquhart and Kirsty Grieve gets the once over checks.
More photos from
Andy Thomlinson

Crofterra Pandemonia - 3 & 4 September

Story - Jim Paterson. Photos Jim Paterson, Andy Thomlinson, Heilan Lassie, and the many Facebook contributors. The story wouldn't be the same without your photos and videos. Thanks to you all.





Starters set off at Fairways


The omens were good for the 2016 La Crofterra Pandemonia as the clouds cleared and the sun broke through for the start at Fairways Inverness on the morning of Saturday 3rd September. My Mazda MX5 as Car No7 juggled into position in the start queue. I think after car 10 the start order numbering became more random. All the starters seemed to heed the drivers briefing from Dave Spence to refrain from 'entertaining starts', though many waves from departing crews were captured by Andy Thomlinson before he too was on his way. Hands Free' is a must on the phone, but maybe not for driving?'

We all made sure the first leg back to the A9 and on to the Kessock Bridge heading for the Black Isle, making sure not to catch the eyes of the police, especially as we were passing the Northern Constabulary HQ. (morning all!)

The first challenge was finding the Kilmuir slip road off the A9. How many sailed on by then? I was following a group headed up by Mags and Don Campbell in their 1955 Sunbeam Talbot 90 and a group headed by Gerry Robb in the 1932 Ford Vic. All was well until Gerry and the gang turned left, on our way to Culbokie, so I followed. What is the first rule of navigating? Do not blindly follow the guy in front. Rona my co-driver cried 'Mags turned right'. Grrr. Quick turnaround and hoof it back up the road, making sure to miss walkers and cyclists also enjoying themselves.

Back on route to Culbokie and picked up the A9, spotting the slip onto the B817 to Evanton. Again many Crofters sailed on past up the A9, missing this scenic loop. This is trickier than I thought, and we are only on page 2. Still weather and scenery great.

A quick rear mirror check showed only Campbell Jamieson in his 2003 Audi TT behind. The Alness to Bonar Bridge section took in some commanding views toward the Dornoch Firth. We took heed of the caution in the roadbook to avoid pothole bashing on the Bonar to Golspie section, and negotiated the multi junction turns at Blackies under the rail bridge. Things were looking up. We are on page 4, without wrong slotting again!

Through Strath Fleet, alongside the river fleet led to Lairg at the top of Loch Shin. This next section is going to sort the men from the boys, heading for Durness right at the top of Scotland.



Taking in the views


The route was now almost all single track with passing places, even though they carried 'A' road classification. That's because there ain't any alternatives. This is the land of the Straths, staring with Tirry, alongside the river of the same name, then Strath Vagastie to Altnahara. If we thought that was tricky, we hadn't seen anything yet! On to Hope up Strath Hope by Ben Hope was a real tricky track. The roadbook rightly warned of poor surfaces, of which there were many. The temporary bridges were something else, particularly for low slung sports cars like my MX5. The melting winter snows had washed away some of the bridges which had been replaced by a typical Army REME bridge. Unfortunately these were placed on concrete blocks some four feet above the riverbed with ramps of gravel and stones to get on to them. These of course clattered and banged off the bottom of the MX5 and I just prayed none would puncture the fuel tank. Out here any failure would be catastrophic. As Jimmy 'Alfa' McDonald said to me later, it just needed another flood and the water would simply skirt round the parapets and wash away the ramps cutting the route completely. Time will tell.

We met many fellow traveller, as well as Crofters, on bicycles and walking, but as speeds were pretty low anyway, there was little chance of 'punting' any into the Strathmore River.

All 'hope' of a change to wide sweeping roads melted when we reached Hope (sorry about the pun), keeping to single track all the way round Loch Eriboll sea loch. Used by the Royal Navy during WW2, it is well known as the place the crew of HMS Hood spent their last shore leave prior to the Battle of the Denmark Strait, where she was sunk while chasing the German battleship Bismarck. Many of the sailors painted the names of their ships on stones on the hillside. We spotted the island 'Eilean Choraidh' used for ariel bombing practice on the German battleship Tirpitz, and it does look uncannily like a battleship.

But I digress. We must press on to Durness. The clouds were forming from the west and soon the heavens opened forcing a quick 'tops up', apart from John Stuart in his bright yellow Westfield. He had to run fr cover, eventually pulling over and finding shelter in an abandoned tractor, whose cab was intact, albeit no doors. Westie drivers need strong constitutions to drive up here.

The upside was the most spectacular light show, as the sun caught the rain, almost like a daytime 'northern lights'. This was Scotland at its best and we were privileged to see it in all its glory.

If we thought we were on the home stretch to Ullapool for our overnight, yes we were, but still many miles over single track roads. Leaving Durness we looked over to Cape Wrath, the most north westerly point in the UK mainland passing yet more outstanding viewpoints toward Laxford Bridge where the road opened up to Scourie, and on to Kylesku. At Unapool we turned due west to Drumbeg, taking care to over the many blind summits, and to drive slowly and carefully through these small villages, where residents are often overpowered by north Coast 500 drivers tearing through. Several comments that the NC500 may become a victim of its own success.

We reached the west coast at Stoer and stopped to admire the view from Achmelvich viewpoint before reaching Lochinver. The next section to Drumrunie was littered with more blind summits and tight corners to keep me awake and concentrating. Great views at Stac Pollaidh. All to soon we were back on the main A835 and a straight run into Ullapool. We took time to refuel for the Sunday having clocked 240 miles, only 10 more than the road book, so not too many 'off piste' moments.

The evening at the Royal Hotel was buzzing with many of the crews staying and the raffle was great fun, with Roddie Main and Fiona Munro trying to keep some semblance of order. Have you seen as many tickets as this? The theory seemed to be 'if I buy all the tickets I must win a prize.' Well yes it did with what I thought was a new design Star Wars trooper helmet, but turned out to be Gary Bates who won the very elegant golden welders mask.

Sunday 4 September


Sunday start was more relaxed after some hard partying the night before.

Dave Spence and Roddie Main flagged us away at 10.00am. Most got away with no more than oil and water checks.

An easy drive down the A83 just to get cars and crews back into the saddle before once again heading toward Loch Ewe at Braemore Forest. More fantastic views as we reached Little Loch Broom Aultbea, passing the island of Gruinard, where anthrax tests were carried out in 1942 by Porton Down scientists. We held our breath passing this spot, just in case!

Down the side of Loch Ewe, passing Inverewe Garden to Poolewe and to the west coast at Gairloch. Kinlochewe was our next stop, driving alongside Loch Maree. Many took the opportunity to top up their fuel tanks at Kinlochewe, for the tight section to Applecross and the lunch stop. I caught Mags and Don Campbell in the Sunbeam Talbot and was amazed at how it sailed up the climbs, oncoming traffic simply cast aside in awe, as they pressed regally on with a wave and a nod. Royalty could not have done it any better, though the odd obstruction had to be carefully avoided..

We have done this section a few times in the reverse direction from Applecross, but this way offers great views from the many summits, missed when going the other way.

Applecross was a welcome lunch stop, but is now so popular with NC500 travellers. Our timing was spot on, with many Crofters fed and watered just leaving. The place was still buzzing with many taking to the garden for lunch, the weather being perfect for 'alfresco' dining.

All too soon it was time to climb up to Bealach na Ba, where Don found the steep climb giving the Sunbeam a hard time, with grumblings coming from the drive train.

Over the top and what do we find? Some chump in an oversize motorhome coming the other way, forcing everyone to back up. Jimmy Alfa had setup a picnic table and enjoyed a refreshments at the top hairpin, while watching the farce unfold. Eventually after much multi point turns on the hairpins the motorhome went on its way. I'm sure I saw the good drivers partner shouting ' I told you it wasn't suitable for this barge', or words to that effect. When we reached the foot of the Bealach we met some exoticly painted cars making their way up. Something to do with Rocco Rally.

The only way is onward, this time to Lochcarron, round the top of the Loch Carron, down toward the A87, a quick stop at Eilean Donan Castle, then heading east for the finish at Inverness. Running along the north side of Loch Ness the organisers had put in a loop at Abriachan, but we decided to stay on the main line, reaching Fairways after some 230 miles. A total of 460 miles is a good couple of days driving across spectacular roads enjoying almost constant blue skies, well almost.

The prizegiving was surprise, with a change from crystal glasses to matching water jugs. Just what is needed to hold a little water for your dram in a glass from years past. A second raffle provided smiles for many, with John Stuart in the yellow Westie winning a bottle of whisky. Just what you need when a cold shower hits you and no roof on your wagon!

A total of £1500 was raised over both nights raffles for 'Highland Youngsters with Diabetes' charity. An outstanding achievement. A big thanks to all the crews who contributed.

Hailed by all as a great success this 12th running of the Crofterra will be hard to beat, but we were assured that Dave and Roddie were already sharpening their pencils on the 2017 tour. Can't wait to see where we go.

Tales of broken clutches, lost wheels
Dave Spence and Roddie Main

As car C1 we set off from Fairways at the end of the field expecting a fairly quiet time of things. After taking a short cut over the Black Isle we came upon a few tail-enders who we let past. We then followed them up over Struie to Bonar bridge and then to Golspie, where we decided to join Ian Smith and others for a coffee break.

Just leaving the car – the phone rang – Car 26 (Escort Mk2) – Alec Davie and Dave Irwin – broken clutch cable, stuck somewhere above Rogart.

We suggested they try to get to Pittentrail Garage – the nearest one.

However we heard later that they had managed to get to Lairg where a "home mechanic" was trying to repair the broken cable by soldering a piece on the end. This is where we caught them up.

After the attempted repair failed the crew managed to contact a friend of theirs who lives in Dingwall and just so happened to have new cable. We agreed to go to Ardgay, 10 miles away ourselves to meet their friend and pick up the cable – which we duly did then scurried back to the stricken Escort in Lairg.

Half an hour later – new cable fitted – good to go…. but by then it was 4pm – so we cut and ran across country to Ledmore and down to Ullapool. But, one car sorted and one happy crew!

But theirs was not the only incident – at the other end of the field Ricky Finlayson had been beavering about helping


Roy McQueen (Car 41 Mk2 Escort - exhaust problems) and Ricky Gauld (Car 25 Imp – overheating).


But the biggest catastrophe of them all could have happened to Ormond Smith/Ranald Smith in the Triumph Vitesse Car 33. On the very first section going over the Black Isle they noticed a knocking noise.

When checked they found a loose wheel. Ormond decided that wheel nuts supplied with his nice new alloys were the wrong ones and decided to return to Inverness to get other nuts he had at home.

However on the A9 dual carriageway – oops we have a list to port!!! Nearside rear wheel disappeared into the central reservation!

Being resourceful chaps the 2 Smiths collected the wheel, re-attached it and got back, changed nuts and re-joined the tour. Bit of damage to the lower quarter panel, but nothing major, but a potential disaster averted!!

Day 2 – Ullapool to Inverness


Ullapool start view from Mags Campbell room

After being well rested we all made the re-start at 10am on Sunday morning from the Royal Hotel – that is apart from the Smith crew. This time it was Tracey's Elf – it drove from the back car park to the front of the hotel and promptly stopped. Much scratching of heads among the "experts". Coil, condenser, distributor, fuel pump??? - all eliminated systematically.


What next ???


Someone suggested looking at the plugs – totally black and sooty, then somebody else said "oh yes, the exhaust looked a bit black when she drove it round here" – d'aaahhhh – the choke had stuck on and had flooded the engine!!! A quick tweak to the cable and all was well. A lot of time wasted, but we all got on our way eventually an hour after the field.

So the rest of the day went fairly uneventfully until we came upon Lenny and Andrew Morrison with the bonnet up on the Sunbeam at Kishorn. Oil pouring out at high pressure due to a faulty connection to the oil cooler. However a tighten up and half a gallon of Castrol's best and they were on their way.

Ricky Finlayson, who had been helping them out told us tales of Garry Bates (yes, the mobile mechanic with no spares in his car!!). Apparently his alternator had packed in and he swapped batteries with Ricky to get him going – Garry reckoned this would last until he got home. 'Fraid not, folks – we got a call when we were just passing Dornie from Garry – car ground to a halt at Inverinate Filling Station. We were there a few minutes later but unable to help – stopped a few cars but nobody had a spare alternator or even a battery suitable. So RAC was summoned and some time thereafter a recovery vehicle and courtesy car were sent out from Kyle of Lochalsh, so Garry got home late on in the evening.

So – a few tales of woe, but nothing too serious – not enough to spoil the fun anyway.

Ricky Finlayson was awarded the Autovision Trophy for his sterling efforts at standing in as a course car and his work as flying repairman.





'No blooming signal out here' cries
Darren McGuiness


Jamieson Audi TT chases Ritchie Porsche Boxster.




Checkout Facebook

Crofterra Pandemonia

for lots more stories, videos and photos



Updated 9 September 2016
Webmaster