The morning grey skies melted as we set off from Lanark Heritage Village south toward Dumfries and Galloway. We welcomed additional starters who turned up on the day. A great selection of classic cars were joined by a few more modern classics. Our 145 mile run called in at Dumfries House to enjoy a light lunch. From there we travelled the roads across Ayrshire, Dumfries and Galloway, and the Scottish Borders to reach our destination at Blyth Bridge



Unforeseen mishap at the start for Malcolm and Tracey Johnstone, when their 1972 Mini lost all its water on the start line when the heater tap decided to disintegrate. Can't even bypass the tap, so it was a trailer home job. Hope their first time with us will not be their last.



Getting us off on our way was Linda on the flag, starting with Brian McGarrie and Sheila Anderson in their 2004 Mini. No water problems here. Steven and Keith Inch sported a new 1976 Reliant Scimitar. Found on eBay, this one updates their last Scimitar that we saw in 2018. Certainly was a winning purchase reaching the finish without any problems.

Another new car on the scene, this time Craig McGibbon in his latest acquisition, a 1972 Lancia Fulvia Coupé in silver. Karsten Brown found enough leg room to be comfortable reading the roadbook. A regular couple on CCHMSC tours Chris and Mary Paton in their 1960 Mini Mk1. All would be well until a odd noise from the suspension (dry on these early models) near Elvanfoot on the second stage. Being not far from home the couple dropped the Mini for the day car to complete and reach the finish.

Gordon Glen, recently back from Singapore where he took in the F1 GP, turned out in his 1968 Volvo 122S. Unfortunately the co-driver was unable to make it so we hastened Gordon off to follow the Paton's Mini. Next up was Vaughn Taylor with Jim Campbell at his side in the 1972 Saab96. This example may look 'ratty' but is a solid piece of machinery

Ann and George Head started in their 1996 BMY convertible. This car has seen them complete many a club tour, and is now up for sale on the club website.

Reuben Phillips and son spluttered to the start line in his 1978 MGB/GT. Sounded like fuel starvation while getting hot in the queue. Has had several people look at it but unable to nail this intermittent problem so far. The car would get them to the end without too many problems.

Tom Niven and Karen Wilson crewed Tom's 2005 MGF, another regular on club tours. A new clutch fitted only the other day would be tested on this event. Good luck! Jock Millar with Linda Telford were expected in the 1965 MG Midget, but a whining back wheel bearing forced a move to Linda's corsa day car. However Jock told me, that for 1400cc it goes like the wind, even though it can swallow fuel in the process! Helen Kirkness and Tony Woods changed from their MGB V8 to an MGB/GT.

Jim and Norma Watson aired their 1977 MGB Roadster, leaving Norma's Riley Elf in the garage, last seen at the Gymkhana. Brian Telfer was in his 1978 MGB/GT with the dogs, securely fitted with seat belts in the back, with Carrick Hewitson on the roadbook. Brian's wife Janet would normally be navigating but she was on a yoga weekend, none other than at Dumfries House. You couldn't make that up!

Organiser Ralph Forbes used his Porsche to help any lost souls he may find on the way round the route. Friends Brian and Sheila Watt brought their day car an Audi A8 to join the tour, along with Lisa Stoneand Ernie Page in their BMW.

Alan Garfagnini and Carol-ann Brodie teamed up in a 2000 Golf Gti. to complete the starters.



We reached our lunch break halt at Dumfries House. Set in 2,000 acres, this stunning Estate and 18th-century house wa saved by the intervention of His Royal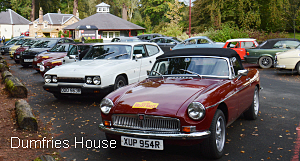 Highness, The Prince Charles, Duke of Rothesay in 2007, Dumfries House combines the neoclassical architecture of Robert Adam with the furniture of Thomas Chippendale and leading 18th-century Scottish cabinet makers.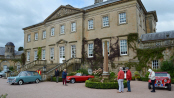 At Dumfries House we met Ayrshire Car Club also visiting on a local tour.

Our crews took in the now warm autumn sunshine to refuel and refresh themselves for the main stage down into Dumfries and Galloway.

The route led us to to Tynron and up the leadhills valley, before reaching our finish venue at Netherurd house for refreshments and telling of tall tales and derring do!.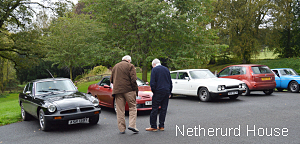 This is the last event of the clubs classic touring season.

The 2020 season calendar will be published soon.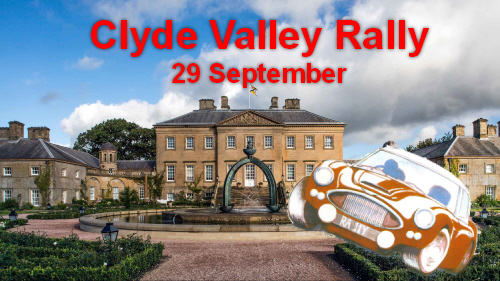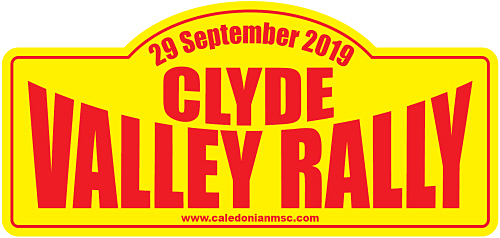 Departing from New Lanark Mills the crews headed south out of the town, and were soon on the twiting and narrow roads, seemingly in the middle of nowhere, when in fact only a few miles from the town.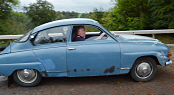 We were heading west to Kirkmuirhill and on to Sandiford, before turning south west to Dungavel and south towar dMuirkirk. a sneaky no signpost right hander caught a few out. This bypassed Muirkirk to join the road west to Sorn.





Cutting over to Catrine we made for Auchinleck and Cumnock, for the last sprint into Dumfries House, on the road to Ayr.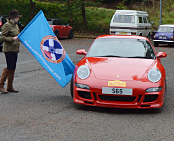 After meeting the Ayrshire Club crews we headed off on to stage 2.

This took us south, bypassing New Cumnco and over to Dalmellington. A run down the A713 we turned left over to Moniaive.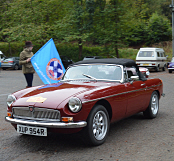 A steep climb out of the viallage toward Tynron would sort the men out from the boys were it midwinter and snow on the ground. Great training if your contemplating joining the Monte Historique in January
.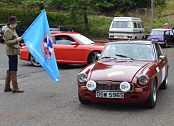 We were heading north on the side roads around Drumlanrig Castle to reach Mennock and the Lead hills road to Wanlockhead.

A refreshment / Toilet stop helped a few crews out, before the final push to Elvanfoot, Crawford, and round Camps Reservoir, to join the road to Coulter and over country toward Biggar, crossing the River clyde for the last time.

Reaching Dolphinton heralded the last leg into Netherurd house where a light snack and hot beverages awaited.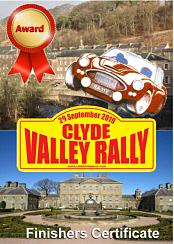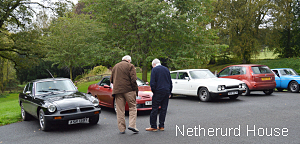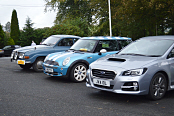 Remember to put Sunday 1 December in your diary for the club annual Christmas lunch at the royal George HotMeantime you can put Sunday 1 December in your diary for the club annual Christmas lunch at the royal George hotl in Perth. Invitations coming soon.l in Perth.
Invitations coming soon.