Over 30 crews arrived at the New Lanark Mills World Heritage Site for the start of the 2018 Clyde Valley Rally on Sunday 30 September. A challenging route led the crews to the lunch stop at the majestic Drumlanrig Castle where we lined up in front of the castle and were joined by a group of Belgian bikers, also on tour. Our second leg took us over the hills offering some amazing views as the autumn sunshine bathed the landscape.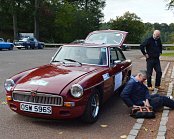 Excitement at the start as crews lined up to be flagged off. Brian Telfer managed to cross a sleeping policeman at the wrong angle in his MGB/GT, pulling the exhaust off the manifold. I recognised the sound, having experienced similar disasters in my Healey Sprite on more than a few occasions. Brian is a past master though and soon was under the car with spanner and hammer to make sure he joined the rest of the crews.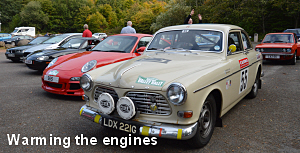 Linda took the role of flagging off the cars, but the breeze soon had her remove her hat before it blew of, never to be seen again.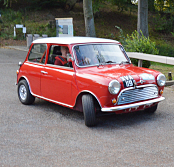 Heading off the crews from Lanark Mills was Chris and Mary Paton in their Mk1 Mini. A regular on CCHMSC and many other tours, the mini is no slouch, sporting a pretty beefy power unit under the bonnet. Keeping the 'Mini' theme Norma Watson pulled up in the Riley Elf with Jim Watson on the roadbook. Another pair we see regularly on club tours.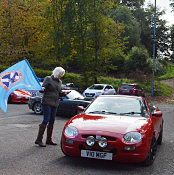 Tom and Marianne Dromgoole pulled up in their MGF, as usual with the top down. It has to be monsoon weather to make this pair put the top back up. Our first MX5 of the day was Vaughn Taylor and Jim Campbell in their '98 model with hardtop fitted.

Pulling up in a more modern Ford Fiesta were Fiona Steele and Martyn Douglas in a 2008 model. Ann and George Head kept the top up on their 1996 BMW convertible for the start, but it would be down later as the sun broke through on route.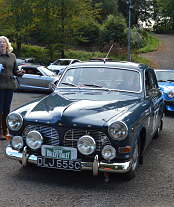 Craig McGibbon with Karsten Brown on the maps in Craig's 'Monte' 1965 Amazon rolled up next. This cars and crew have been several time to Monte Carlo, on the Historique event. A brilliant blue '78 MGB/GT driven by Reuben Phillips followed them. A 2004 Smart Roadster was driven by Brian McGarrie with Sheila Anderson was quickly followed by lone driver Graham Morris in a 2014 Vauxhall Corsa, using his friend Brian in front to lead the way for him.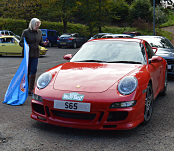 Organiser Ralph Forbes offered his car as a 'follow me' for those not sure how a tulip book works. He took the wheel of his bright red Porsche so nobody could miss him. No problems for Gordon Glen and Stewart Roxburgh in our second Volvo 122S, this time 1968 vintage. Gordon is a Monte Carlo Historique veteran, though usually in his Opel Kadett, which is being prepared for the 2019 event in January.

The cracking bright yellow 1986 Porsche 911 of Ken and Ross Sutherland looked terrific as it powered away from the start line. They were followed by Edward Labinjoh driving Ralph Forbes 1974 Fiat 128 Coupé, with Athanasios Kerasios calling the route. Another car that had driven the Monte Carlo Historique a few times in the past.

Following in the Dromgoole fashion, Jamie and Cal Hope had the top down on their 2002 Saab convertible, looking windswept before they left. More MGB's, this time Helen Kirkness and Tony Woods in the green 1976 MGB/GT V8, burbling nicely waiting the countdown to start. Scott Clements and Liz Junor were squeezed into the compact bright yellow 1972 Clan Crusader. The power bulge in the roof was put in by the previous 6ft 6 owner Wow!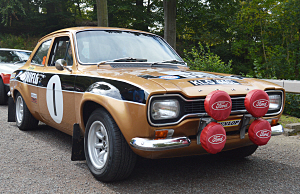 Must have a Subaru? Yes please, and Brian and Suzanne Pringle brought their super blue 2000 Impreza along, looking and sounding terrific. If Ford Escort is your thing then one of the finest examples of a Mk1 was the 1973 model of Gary and Angela Douglas which looked like it had been polished all night for the event. I was told it had only been washed. Must get some of that car shampoo!

Keith and Steven Inch pulled up in their new Reliant Scimitar. Only a couple of weeks in their care and this was its first event. It would go on to the end so reliability, not a strong point for this marque, was good today.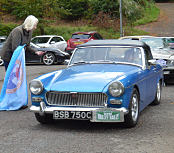 Haven't seen Jock Millar and Linda Telford in the 1965 MG Midget for some time, but the car was in fine fettle, though Jock brought a screwdriver handy to tweak the mixture on route.

Maude and Eleanor Donkers in their 1985 Mercedes 380SL also had the top down. Well wrapped up is the name of the game in a soft top when the temperature drops. Drew Struthers 1971 Hillman Avenger was right behind the Merc with Paddy Shannon on the maps. A superb 2003 Porsche 911 with Charles Donkers at the wheel and Catherine Donkers using her navigating skills, which would keep them spot on course throughout the event.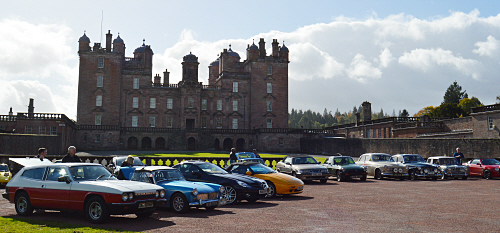 Locals Craig and Rod Ritchie also sported a Porsche, this time the 2000 Boxster that we see then out regularly on club events. They were followed by Alan Eccles and Carole Paterson, again top down in their 2009 Mercedes SLK.



If yellow is your colour, as it is for our flag waver Linda, then the 1991 Lotus Elan of Colin Bruce with Gordon Reid will be a favourite. This pair are also regularly seen on the club events.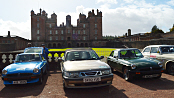 Sitting in more modern comfort were Carrick and Adrienne Hewitson in a sporty 2004 Mini Cooper S. You can't keep an MG down, and a super red example of a 2005 MGF with Tom Niven and Karen Wilson took off, followed by Brian and Janet Telfer, plus the two dogs securely strapped in the back, now running smoothly and quietly.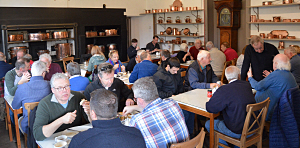 The castle welcomed us for lunch and a photo opportunity as we lined up in front of the castle. The Belgian bikers, also on tour, were interested in our cars, taking a few photos on their phones.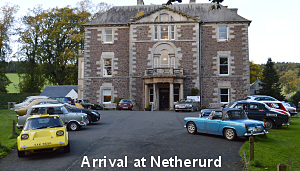 Back at Netherurd we tucked into a selection of soup, sausage rolls and cake, along with plenty of tea and coffee, finishing off a great day out. The finishers certificate was a small reminder of our great day.

Checkout our next event the Gey Foxy Rally. A competitive event with tests and regularities, using the same Tulip style roadbook, taking the Clyde Valley Rally to the next stage for those ready to try something different.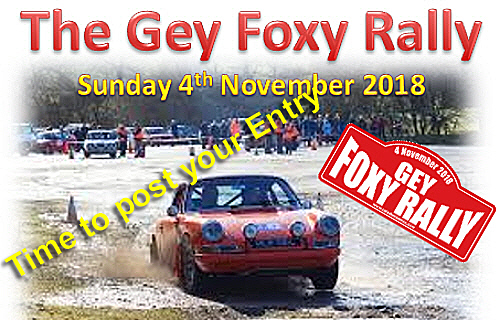 If you don't want to compete, how about helping with the marshaling? In and around Lanark, so familiar territory to the Clyde Valley Rally. Contact jim.paterson@btinternet.com if you can help out.

Departing from New Lanark Mills the crews headed south out of the town. The change to narrow single track roads the way we chose is so sudden you think you are in the middle of nowhere in minutes, when in fact you're only a mile or two from the town.

To help 'first timers' we put plenty of red arrows at 'no Signpost' junctions. nothing worse than getting lost in the first mile or two. It worked. We didn't lose anyone.


After meandering the byways we drove under the M74 heading south west, toward Glespin.

From here it was over the hills into the wild country of Glentaggart, toward Crawfordjohn.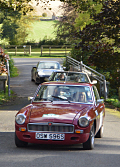 A fast run down to Sanquhar, then off on to single track on the south side of the River Nith at Mennock. This tight twisty road is not one to meet anything large coming toward you, but fortunately it is little used.

As we travelled to Breconside we swung east, passing Alton Cleuch, and over Boghouse burn into the grounds of Drumlanrig Castle.


We reached the start of the carriage drive, taking us up to the front of this magnificent castle.

The cars parked up along the front of the castle, while the crews headed for the restaurant for lunch and refreshments.



The Castle built in 1679-1689 is the stunning Dumfriesshire seat of the Duke and Duchess of Buccleuch and Queensberry, and boasts 120 rooms,17 turrets and four towers.

We were joined by a group of Belgian bikers, also taking in a visit to the last day the castle is open for 2018.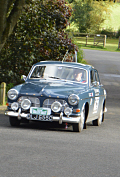 Our second stage headed east by Enterkinfoot, Durisdeer Mill, using part of the old Roman road. Durisdeer church, dating from the 1720's, which serves Drumlanrig Castle, was on our route.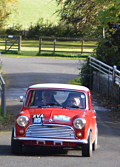 Continuing south east we reached the Ae forest and another coffee stop at the Ae Café for those in need of caffeine.

East to Templand then north to Beattock, Crawford and Abington, before turning east toward Biggar, Elsrickle, Dolphinton and our finish at Netherurd House Blyth Bridge, where a warm welcome and refreshments awaited, along with a certificate for every finisher.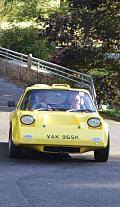 Once more we used orange arrows on the final section to keep the first timers on the right route.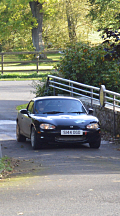 We also laid out nine observation boards to be spotted on route, as a bit of a light challenge to the crew.

Some 130 miles, or more if you missed a turn.