Classic Vehicle & Aircraft Private Viewing - 18 November 2018


The club visit to one of Britain's largest collections of historic vehicles at Perth Airport, arranged by the Rotary Club of Blairgowrie, attracted over 200 members from CCHMSC and other car clubs across Scotland.

Over 200 classic cars, many with provenance were on display. Included in the visit was a visit to the Aero Club with 90 aircraft, many historic on display, some flying when we visited.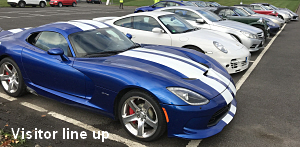 Finally we saw the Air Service Training hangar, where they teach students from across the world how to repair aircraft engines, both piston and jet turbines.
The viewing was raising funds for Scotland's Charity Air Ambulance service, which covers all Scotland. They receive a 'shout' call every day of the year, and at £2000 a call it needs a lot of funding to keep in the air. Since 2013 they have flown 1934 callouts, and can be anywhere in Scotland within 25 minutes. A pilot and paramedic crew are on standby every daylight hour.
Perth Airport, originally called Scone Aerodrome which opened in 1936 and was used by the RAF Squadron 666 during WW2.
On arrival we signed on and made our donations to the charity, adding Gift Aid where we could before parking up and joining our tour colleagues timeslot. This was a military precision event, to make sure that the groups of 20 followed round in order and did not collide into each other!
Though we were not allowed to take photographs of the cars we started in what is known as the top 30 shed. Here we saw a selection of vehicles from the 1920's, including an early 20's American campervan. through to the 70's Lotus Cortina's with everything including 1930's Mercedes, all LHD from Germany and Sweden in between. There was even an original Dalek from the first BBC series of Doctor Who!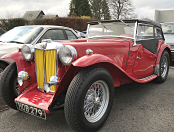 Our next port of call was the main hangar containing some 250 cars and vehicles on two levels. On the main floor was a wide selection of cars and commercial vehicles, with a transporter full of green GPO and red Royal Mail Morris Minor vans, some I had driven in my youth when working as a telephone engineer.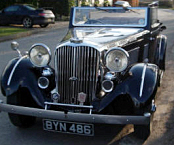 Now most of us will recall the Brough Superior motorcycle but how many can recall the 1935 Brough car? Not many around, but one in this collection. A line of Land Rover's headed up with Series 2, Defenders, including a last of the line virtually unused example, Classic Range Rover, P6 etc, sitting opposite Hillman Minx, Super Minx, and several Lotus Elans, 2 and 2+2 examples. All the vehicles are regularly serviced, restored and run by a team led by Trevor Williams.

Up on the mezzanine I counted 18 Mini's in a row, including saloon, pickup, vans, and even a mini moke. Lots more hidden in the back.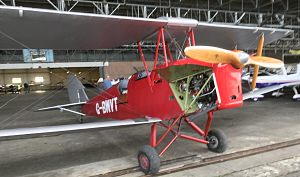 Moving on we entered the Aero Club hangar where some 90 plus aircraft were lined up. all were privately owned by individuals or syndicates. We saw fixed wing, microlight and gyrocopters, as well as a flying replica of a WW1 Fokker Eindecker monoplane. Sitting at the gate of the hangar was a Tiger Moth biplane, which would later take off and fly over us across the airfield.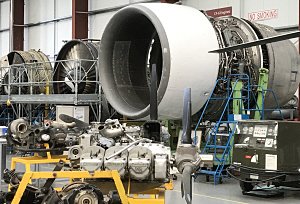 Onwards to the Air Service Training hangar where we heard about the world class training the team provide to students from across the world. The course consists of 2 year practical and classroom theoretical training on how to dismantle, service and rebuild jet turbines and piston engines, aircraft fueling systems, wiring and avionic systems. This is followed up by a further 2 years in the field before they can achieve their fully qualified license to operate on their own. Most students are sponsored but many are self sponsored. Currently the team are setting up training in Oman, India, Pakistan and the middle east.
By now we were ready for a coffee and refreshments which finished our day's activities.
If you missed the event then join the Blairgowrie Drive it Day next year where a visit is included. More information at