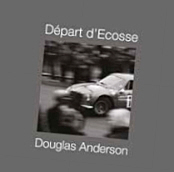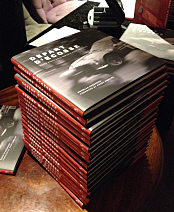 Books await collection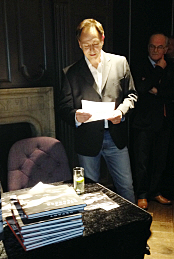 Stewart Ramsay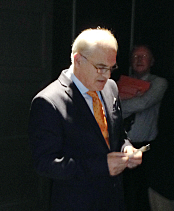 Douglas tells us his story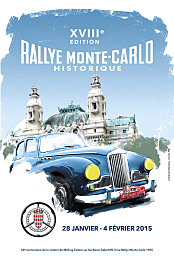 Depart D'Ecosse book launch - 6 November 2014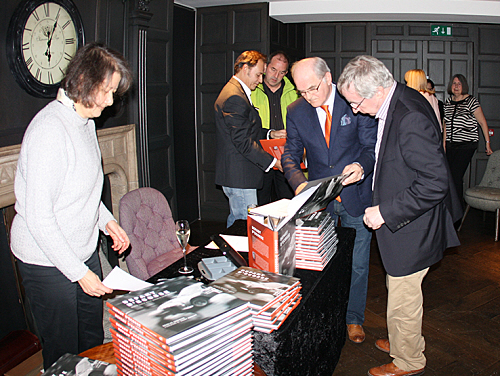 Douglas signing copy for CCHMSC member Tom Niven (photo Stewart Ramsay)

The Monte Carlo Room in the Blythswood Square Hotel, Glasgow was filled with classic motoring enthusiasts from across Scotland. This room is synonymous with the Monte Carlo Rallies Glasgow starts from the mid 20th century, with photos of the events of these past years covering the walls of the room.

This occasion was to launch a book capturing the story of the Scottish connection to the Monte Carlo Rally, as written by author Douglas Anderson.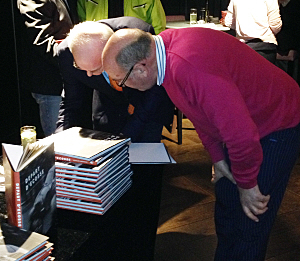 On hand was the publisher who introduced the evening, before Janet Garner gave some background about Douglas, and his passion for the Monte Carlo event and how she has worked with him to organise the Glasgow departures over the past few years.

Stewart Ramsay, motoring photographer, who supplied many of the photos in the book relating to the recent starts from 2011 to the present, talked of his connection to the event and presented some of the photos in the book that show the starts from unusual and exciting perspectives.

Douglas told us that he was looking for something to mark the2015 event, being the fifth running of the Monte Carlo Historique, since its return to Glasgow in 2011 for the 100th anniversary of the Monte Carlo Rallye. Of all his options he thought a book covering the history of Scottish starts would be appropriate, and set about gathering relevant information from a wide range of sources.

David Whyte, motoring historian, and Jonathan Lord, Driector of RSAC Motorsport were a source of much of the history, together with Stuart Pringle, club secretary of the British Racing Drivers Club. Paul Coulter, motoring journalist and author provided much background, especially on the Hillman Imp, as did Rosemary Smith International works rally driver in the 1960's, and media consultant Kenneth Stephen.

Of special interest is the story from Gary Poole, who built the Australian team Holden FX48-215, who recounted the Australian teams drive on the 2012 event, celebrating the 60th anniversary of the original Holden FX in the 1952 Monte Carlo event. He also supplied some cracking photographs taken on the event in the french Alps.

The books Foreward was written by Paddy Hopkirk, himself the only UK winner in a British car, on the 1964 event in a Mini. Paddy also flagged off the cars from Paisley on the 2013 event, celebrating the 60th anniversary of his 1964 Monte Carlo win.

The afternoon included a showing of the 2014 Monte Carlo Historique event film.

You can purchase a copy of this fascinating book from SpeedReading Books (www.srbooks.com) for the bargain pre-Christmas price of price of £35.00 (post free in UK), the Amazon website, or direct from the publishers www.argyllbookstore.co.uk (RRP £39.99)


Updated 12 November 2014
Webmaster