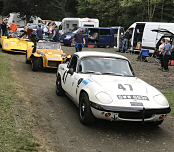 lining up for the hillclimb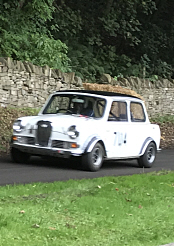 Riley Elf pressing on the gas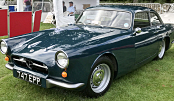 a Rare Peerless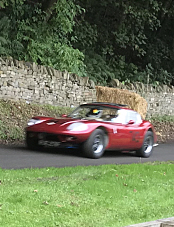 Marcos zips up the hill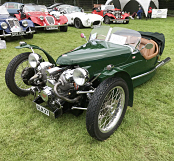 Morgan 3 wheeler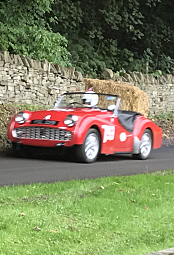 Triumph TR3A on full song


The heat turned up at Bo'ness, in the sky and on the track. A damp Saturday changed to 22 degrees on the Sunday unleashing on track excitement to entertain the record breaking crowd of spectators.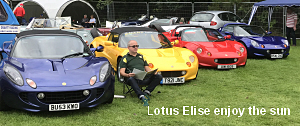 I met up with CCHMSC member Tom Niven in the main arena where clubs stands sporting MG, Triumph and Jaguar joined Cobra, Lotus, Morgan, Healey and Volkswagen in a blaze of colours. Classic, Historic, Sporting and specials sat side by side, their owners willing to explain the hours expended restoring and rebuilding their chosen chariots.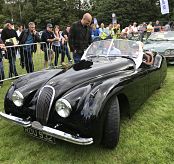 The Jaguar Club were out in force and I met up with Colin Stewart, who organised the Perthshire Classic Car Festival back in April. He was with wife Ann, in his XK120, just back from a tour through Switzerland, Austria and Croatia. Not bad for a 70 year old car. (Ed, We won't mention the driver's age!)

The Triumph marque was represented well, with a gathering of spitfires, Herald's and TR's form all era's.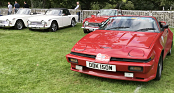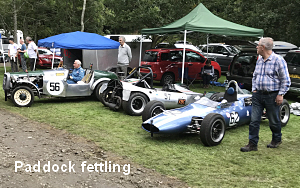 A walk down the hill to the paddock was rewarded with a plethora of competition cars. Single seaters, sat alongside MG, Triumph, Mini, Porsche, Ford, and my favourite, a Marcos GT, sporting a Ford engine feeding on twin sidedraught Weber's. I met fellow club member Dave Lauder who was also mingling amongst the competitors,

With a comprehensive commentary over the tannoy spectators were able to follow who was heading up the hill climb and how their times were progressing.

The ease of walking round the paddock and speaking to the teams and owners is a signature feature of this popular event, not always offered at track events.



The day finished with the awards presentations which saw the arena filled with winning cars and clubs, celebrating spectacular car owners, farthest travelled ( over 400 Miles) and best club stand.

Looks like organisers will be working hard to make 2019 event even better.


Published 3 September 2018
Webmaster