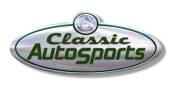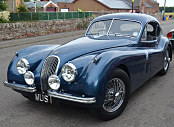 Ecurie Ecosse - MUS 1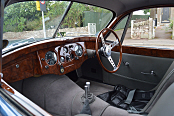 Key in beautiful dashboard, just screaming 'please drive me'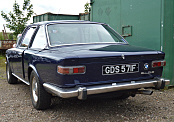 BMW Glas badge giveaway on rear.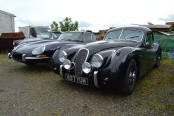 FHC XK120 sits aside E Type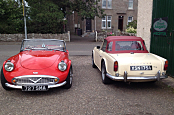 Daimler Dart and Triumph TR4A visitors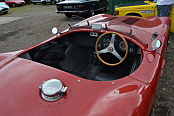 Cosy in Christoffs' C Type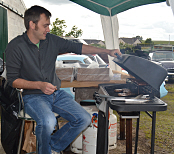 Gareth on the grill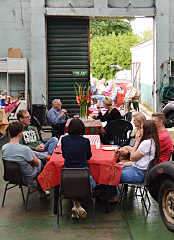 Chatting all things classic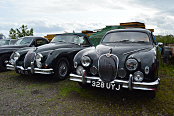 3.4 litre MK1 sits alongside XK150 in afternoon sunshine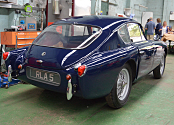 AC Aceca fastback rear.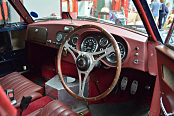 Neat inside the Aceca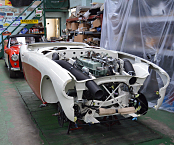 Big Healey starting to take shape.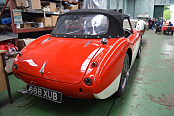 This one nearly ready to roll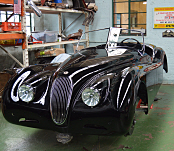 XK120 not long before it drives on the road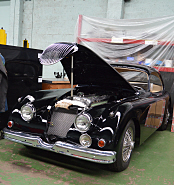 XK150 approaching completion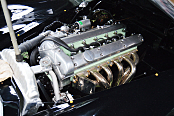 With spanking new rebuilt engine too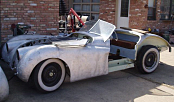 Manney XK as found in Texas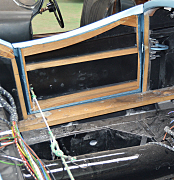 New Ash framed door with aluminium door skin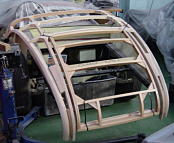 New Ash rear frame specially built for this rebuild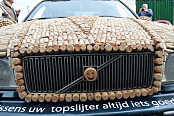 Smiling Kork :-)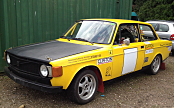 Yes another racing Volvo awaits work. Now did you believe in a racing Volvo?

Classic AutoSports Barbeque -11 July 2015

Report and photos Jim Paterson


A great drive through Fife and Angus with the top down on my MX5 to reach Dave Barnett's AutoSports at Inverkeilor to be confronted with an amazing collection of superb Jaguars and other great makes.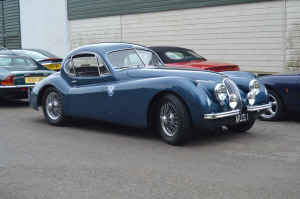 Lined up outside was an eclectic collection of customer and Jaguar Enthusiast Club member Jaguar sports cars, both modern and classic. From the XK8, XKR, fixed head and convertible, XJS and XK120 FHC. But hold on, that number plate on an Ecurie Ecosse XK120 looks familiar. MUS 1 signals the 1954 XK120, once the road car of Ninian Sanderson, who together with Ron Flockhart won the Le Mans 24-Hour Race outright in 1956 driving the Ecurie Ecosse Jaguar D-Type 'MWS 301'.

The JDHT (Jaguar Daimler Heritage Trust) Certificate confirms that Ninian Sanderson was the first owner and that the car was supplied new via the Coombs dealership in Guildford and first registered 'MUS 1' in Glasgow. It has a long provenance and to see it here again in Scotland was a fantastic surprise. Not sure if owner Darren McWhirter realised the keys were in the ignition but I was sorely tempted to take it for a spin. Would have been worth going to jail for!


But much more special metal was parked in the yard, including an unusual BMW. It threw me at first as the usual double kidney grill that marks a BMW was absent. The badge on the rear gave me a clue, GLAS. BMW bought out Hans Glas car manufacturer in 1966, and continued this model, uprating the engine to a 3.0 litre V8 in place of the 2.6 litre in 1967. By 1968 it was 'delisted' from the BMW catalogue so this 1968 example is indeed one of a rare breed.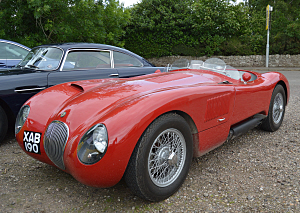 As I stepped back to take more photo's I nearly fell into Christoff Kulli's 1955 C Type Jaguar. What better place to fall into? Jaguar developed the XK120C, or more generally known as the 'C Type', after their toe in the water XK120 trip to Le Mans in 1950, A tubular frame, to reduce weight, was incorporated into the design and the aero screens mean helmet and goggles are a must for Christoff when the rain comes down.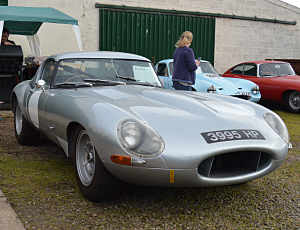 I almost overlooked the Aston Martin DB4, owned by Darren's father, all the way from Elgin, on my way to a selection of XK 120's and XK150 in the yard to see Gareth on the grill for a juicy burger. As I approached Gareth at the grill I spotted a 1962 XK E Type lightweight replica, built by the late Brian Wilkinson of Zealia Engineering. The car is also a Scottish Historic Championship winner. This one is up for sale so could be yours.

If TVR is your favourite classic, then Dave is also selling a customers 1970 Tuscan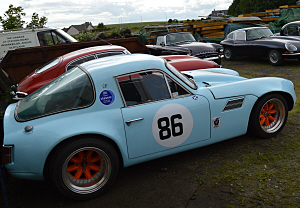 with extensive competition heritage and wins. With a Ford 289 Hi-Po V8 mated to a close ratio gearbox this is a real sprint and hillclimb 'beast'. Call Dave at Classic AutoSports 01241 830557 to find out more on either the E Type Lightweight Replica or the TVR Tuscan.

Admiring the XK120 FHC, DHC and XK150 parked out in the sunshine alongside a 3.4 Mk1 and E type just made my mouth water, even more than the burger! However just as I thought the best had been seen, my eyes could not believe what was inside the workshop.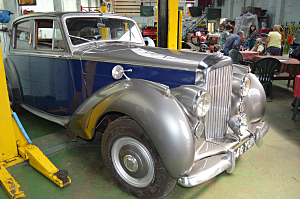 Staring me in the face was a magnificent Bentley Mk 6, in for a major service and fettling. I discovered the two tone paint scheme is in fact a blue vinyl shrink over the all silver body. What a great idea, and certainly transforms the look of the car in a period style,which can be undone anytime.

What is that fastback on the other side of the shop? An 1955/6 AC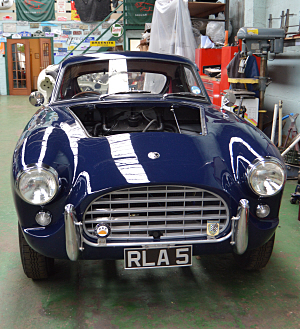 Aceca looked resplendent. Predecessor of the well known AC Cobra this example had been fitted with an Alfa engine at sometime in the distant past. It is now awaiting return of an original AC engine of the correct vintage which is being fully rebuilt. Dave has one of his colleagues do the rebuild due to lack of his own time with so many cars to work on. Was a blessing in disguise, as the original aluminum block turned out to be porous. Ouch. A new block has been cast, and being machined and reattached the bottom end, liners and pistons fitted etc. The full works. Will be great when it is mated with the car again. Hope to see it before it drives off with its happy owner.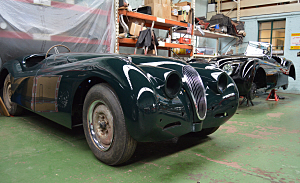 Behind the AC, leading to the back of the workshop were a couple of big Healeys in different stages of rebuild. On the other side of the workshop a trio of XK's were approaching completion. Two XK120's, a left hooker in a deep shining black will be heading to the US from where it came as a bare shell many years ago, and a RHD in Jaguar British Racing Green staying closer to home. A fixed head XK150, also in black, completed the trio.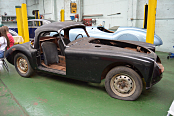 Being an MG fan I could not miss the MGA FHC awaiting restoration. Fully patinated from many years abandoned under the mid west sunshine it was impossible to see what colour this car used to be. "It's virtually complete" reported Dave, "apart from one section of the three piece rear window". Stored in the same family since 1975 when it was taken off the road, this is truly a time warp car. If this takes your fancy I'm afraid your too late. One of Dave's client's caught a glimpse and put his marker on it there and then. Another one to see when ready for the road.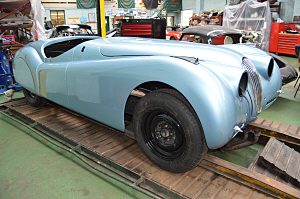 Just when I thought I had seen it all, the crème de la crème caught my eye. A truly original and magnificent aluminium bodied XK120 being restored, one of only some 200 odd chassis hand built at the start of the XK120 production, before the change to all steel bodies. Dave had bought chassis no 120 (Ed 'nice touch, what a coincidence') which was purchased new by motoring journalist Henry Manney III in 1950, probably in Los Angeles. Henry wrote for Road and Track magazine in the US, but traveled across Europe as well.

The shell of a car sat right next to chassis No3 in the US, also in a similar state. For those not aware chassis No3 was the first XK120 shipped to the US and bought by Holywood film star Clark Gable. The front of No 3 had been removed and by time Dave purchased No 120 and got it home to Scotland it managed to acquire the No 3 front end. Dave has worked out tell tale give aways to conclude this car now has the Clark Gable front end, meaning chassis No 3 which won concours at Pebble Beach in 2011 probably has the chassis number 120 front end. Fascinating twist for the provenance trail.

Dave has chosen to finish the car in Pastel Blue Metallic, only available for XK120's from 1949 to 1952. Finding the paint code took Dave a lot of detective work, and thanks to his paint specialist he has managed to have a few tins made up. Another car I must see when completed. Pity that it will probably be well outside my budget.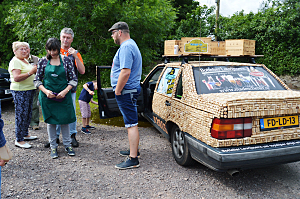 There is always an amusing highlight, and a car full of Dutch visitors provided this years surprise and made us all smile. Arriving in a Volvo 244 can be loosely considered a classic, but covered in corks has to be a first.

The crew run Bottelier Laurijssens wine shop in Belgium and recycle bottle corks that customers collect and return. These are made into cork tiles and the like. However with screw top wine bottles they are becoing less common. The car has entered many 'garbage runs' where the car must cost no more than 500 euro's, so they get plenty of comments from this one. Oh, and it only runs on Unleaded Bordeaux fuel! Finally the bumper sticker "Botellier Laurijssens uw topslijter' is the shop and supplier 'altijd iets goeds onder de kurk' means 'everything is good under the cork'. Well of course.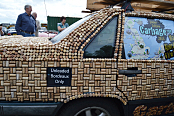 Over 200 classic owners and enthusiasts visited during the course of the day, coming from far and wide, and after the Glamis Extravaganza. A great turnout and everyone thought it was a superb opportunity to enjoy and see so many classics being kept on the road. Looking forward to next year already. Thanks to Dave, Hazel, and Gareth for a unique BBQ with a difference..


Updated 14 July 2015
Webmaster