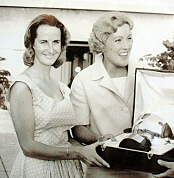 Ann (Left) with Pat receiving one of many prizes in their rallying career together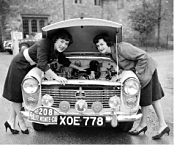 Pat (Left) and Ann with their 1959 Monte Carlo Rally Austin A40

Ann Riley (nee Wisdom)
28 May 1934 to 14 October 2015
An Appreciation

by Stuart Turner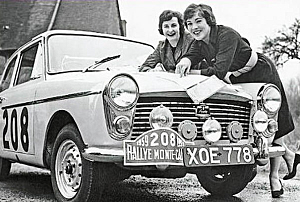 We are very sorry to report the passing of Ann Riley (born Ann Wisdom), on 14 October 2015, after fighting illness.

As Pat Moss's long-time co-driver in international rallying, Ann and Pat were one of the most formidable and successful teams in the sport, not only in the Ladies' category, which they habitually dominated, but competitive at the same level as the men in this exciting, colourful and gruelling sport.

Pat and Ann were prominent competitors from 1956 to 1962, after which Ann retired to start her family, but it was the duo's outstanding success as outright winners of the four-day/four-night Liege-Rome-Liege Rally, which made them legendary in motor sporting circles. Their long-time friend, and later team manager, Stuart Turner, always described this as one of the most amazing drives he had ever seen.

Born in May 1934, Ann was the daughter of Tommy and Elsie (nicknamed 'Bill') Wisdom, both of whom were themselves established in European motorsport. While finding time to become the doyen of British motoring writers (he was Motoring Correspondent of the Daily Herald for many years), Tommy raced and rallied for 'works' teams from the 1930s to the 1960s, including 23 Monte Carlo Rallies. Elsie became one of Britain's foremost lady drivers of the 1930s; it was her gritty ability, in the male-orientated sport of the time, that gained her the affectionate nickname of 'Bill'.

Like many girls in her active social class, Ann Marie Wisdom (who soon became known as 'Wiz' by all who knew her) grew up around horses and horse jumping events, yet it was apparently at a BRDC dinner that she first met Pat Moss, who had spent her teenage years in the same sport. The two became firm friends, and 'Wiz' became a groom to Pat's increasingly successful stable of horses.

Almost inevitably, the two took up rallying together, originally in Pat's own Triumph TR2, where 'Wiz' became the competitive and very accomplished co-driver in the team. Although she often suffered from car sickness, she never let this get in the way, always determined to finish at all costs. On the famous Liege-Rome-Liege outing, for instance, she shrugged off the impression of burning trees crossing the road (an impression brought on by exhaustion), and cheerfully admitted to dousing herself under the parish pump in the village squares which they encountered along the way.

Her first international rally appearance with Pat Moss was in an MGA in the 1956 RAC rally; her first major success followed, when Pat and she took fourth place overall on the RAC and Liege-Rome-Liege events of 1958. The duo became European Ladies' Champions at the end of that year, and became one of the most successful teams in the famous BMC 'works' team.

BMC team captain John Gott commented at the time: "Together, the girls form a team, but apart each is less than half a team."

Her team manager Marcus Chambers said: "Whilst Pat was an extrovert, Ann was much more the novelist's heroine - emotional, temperamental and fastidious. Her dress sense was excellent and she planned her wardrobe to suit the conditions."

Thereafter, the two seemed inseparable in their sport, though both found time for lasting romances: Pat took up with Erik Carlsson, while Ann met and fell in love with rally driver Peter Riley. Ann later admitted: "Peter saved me from making an unsuitable marriage, and we then fell in love and married. . ."

When the Moss/Wisdom rally partnership was at its height, the two drove cars as varied as the ultra-powerful Austin-Healey 3000, the Morris Minor 1000, the Austin A40, and the Saab 96, but it was in a front-wheel-drive Mini-Cooper that the two won the Tulip rally outright in 1962.

In the meantime, 'Wiz' had married Peter Riley in March 1962 (the wedding service being carried out by the rallying parson, the Rev. Rupert Jones), and it was immediately after the Tulip that 'Wiz' announced that she was expecting her first baby and was retiring from the sport.

It was almost a clean break from the sport which had made her deservedly famous, although she returned occasionally: in 1963, to co-drive for Pat in 'works' Ford Cortinas, and a 'works' Saab 96 on the East-African Safari, where they finished second overall. Her last appearance was on the Acropolis rally, where Pat and she took sixth place.

Once retired, 'Wiz' took up a full and active family life, which not only featured the birth of two children - Jenny and Tim - but the building-up of a rural business, initially with horses, then with cattle.

Always a fierce competitor, she successfully showed and evented horses in the 1960s and 1970s, before moving into the breeding of commercial cattle in the 1980s and 1990s. Finally, she established a pedigree Hereford cattle herd in the 2000s, which won numerous prizes, both as a herd, and with individual animals.

It is remarkable to note that - as a twist of fate - both Pat and Ann died on the same day of the year (14 October), separated by exactly seven years. Seven was Pat and Ann's lucky number, which they always tried to include in the number plate or competition number of their cars.

Her husband Peter, along with her daughter Jenny and son Tim, survive her. Backed by the thousands of friends and fans who admired the Moss/Wisdom partnership, they will miss her greatly.

Updated 24 October 2015
Webmaster