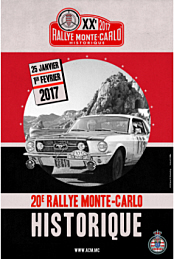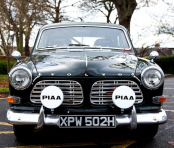 ready for action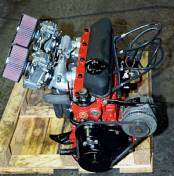 rebuilt engine ready to fit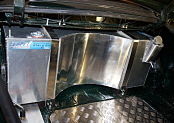 custom built fuel tank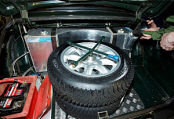 with spare wheels fitted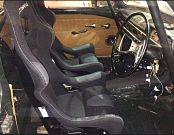 rally seats installedt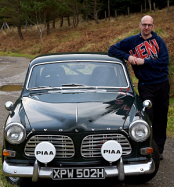 Jim Wilson towers over Anhangá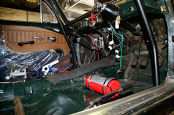 internal plumbing works in progress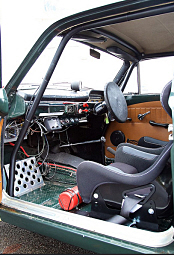 co-pilote view of the world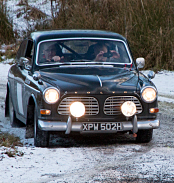 snow testing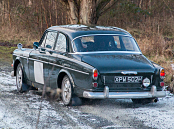 and ice too

Interview with Andy Thomlinson Anhangá Volvo Amazon
Monte Carlo Historique 2017

Interview - Jim Paterson. Photos Malcolm Boddie, Andy Thomlinson,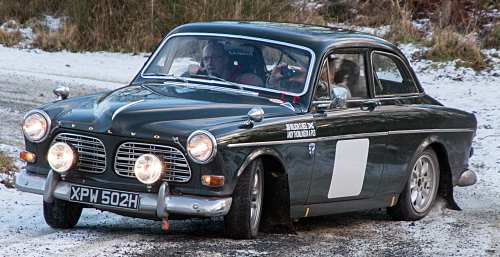 I met up with Andy Thomlinson at a secret location, somewhere in Scotland, to talk about his venture on the forthcoming Rallye Monte Carlo Historique, organised by Automobile Club de Monaco, starting on Wednesday 25th January.

Having established that Andy was going to enter the Monte Historique', I started by asking him ' Why a Volvo Amazon?' He told me that ACM provide a specific list of eligible cars, so that made a good starting point. Unfortunately quite a few on the list were just way out of the budget, so red line through those models. Now Andy is fairly tall, and his co-driver Jim Wilson is pretty tall too, so the smaller car models on the list also presented a real problem. More red lines drawn through them too. I'm thinking this list must be getting pretty short now!

"Of all the cars that were left the Amazon was the one that was by far and away the best suited in my opinion, both from a price point of view, and what we could do with the car" reported Andy. So choice made. All he had to do now was find one! A good one would be helpful. Where did he start?

I asked Andy if this magnificent machine we were stood next to was the first example he found? Of course it wasn't. Andy told me that he hunted the entire length and breadth of the UK in his search, and at one point was looking at a car that had been imported from South Africa, because he thought it would be a rust proof shell. "This proved to be an utter waste of time" he replied.

Despite flights and travel across the UK in his quest for a suitable car, he eventually found this model on eBay, in of all places Dalkeith. Just round the corner so to speak. How infuriating is that. Like not seeing what's in front of your nose! Not only was it the best shell he had looked at it was by far the cheapest as well. This story only gets better.

I asked Andy if the car had had an easy life, to be the best he had seen? Andy didn't think so, rather it had just survived in a better condition over the 50 years of its life than others had. Its not unique to the Volvo Amazon, its almost just luck if you find one. Andy did say this one had better rust proofing underneath than your average example of the marque. Surprisingly Andy discovered that it had been a daily driver for all its life, so never laid up on bricks at anytime.

Now to prepare the car for the Monte. "The car was taken back to the bare shell" reported Andy, continuing "its one thing to look at a car when buying it and it appears to look sound, but you've no idea how many hidden things are under bits of trim, upholstery and the rest of it".

The rebuild work was entrusted to Jim (The Wizard) Wilson, who has prepared more than a few well known classic and competition cars in his time, and will be the co-driver of the finished article. This seemed to me a bit of a genius decision, having one of the best classic car builders in Scotland sit and guide you to Monte Carlo, over the correct route and keeping to strict time. No pressure on Jim then? Who better to know just what the car is capable of than the man who rebuilt it.

The shell was thoroughly checked over, and found to be original and in great order, no welding having been done, or required. Even the paint job you see today is the original. This was a great starting point. As Andy went on to explain, rebuilding the car does not mean putting the old kit back on. Oh no, this is not how Andy goes about anything. If a job is worth doing, it has got to be done properly, with the best quality parts you can find. "Pretty much everything we took out has been discarded" he reported "It has a totally different interior, different seats, roll cage. Much of the interior has been moved, altered, modified, changed or replaced". It certainly looks to have everything required to challenge the Monte full on.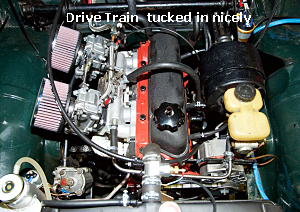 But what about under the bonnet. Andy took the factory original block which produced a heady 82bhp and breathed heavily on it to boost the standard torque, as Andy put it 'considerably'. This will pull them up the alpine ascents, while providing sufficient power to keep up the average speeds demanded on the regularity sections of the event.

Stopping the car is just as important and I was surprised that Andy had gone for the standard brake setup. Everything was replaced of course, new discs, calipers, drums, linings, brake pipes, which now run inside the car along with all the electrics.

Fuel on the Monte has to be managed closely, as quality and availability in France is extremely variable. Andy increased the tank capacity of some 45 litres by replacing the tank with a 100 litre specially built unit, fitted inside the boot of the car. With an operating level of 80 to 90 litres this gives the Amazon a range of 500 to 700 miles, ideal for the long regularity and road sections, and what they are experiencing on the recent test runs.

The added bonus is the weight distribution front to rear is now neutral, the 100 litre of fuel in the boot matching the front end weight of the engine, so perfectly balanced.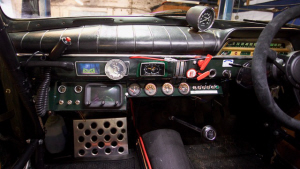 Helping Jim in his role as co-pilote (Ed a bit of the French slipping in?) will be a nifty piece of kit, the Gaugepilot Rally
www.gaugepilot.uk/pages/range .

When he found time to learn how to drive this when underneath the Amazon, baffles me. Andy tells me it will make Jim's job so much easier. Having checked it out I'm sure it will. Guagepilot support, training and assistance have been second to none, and Jim is ready to go.

Finally, why the name Anhangá? Simple replied Andy. Volvo Amazon, Brazil, Amazonian spirit that often protects animals, especially the females and young ones, and tends to appear as a white deer with red eyes, called Anhangá. The specially struck medallion, made for the trip takes pride of place on the dashboard in front of Jim. Good luck spirit to watch over them? Well every little bit helps, as they say, so bring it on.



Looking forward to seeing the car and crew on their way from the Paisley Abbey start, 6.00pm Wednesday 25 January, See a video clip of the testing run.





Updated 18 January 2017
Webmaster